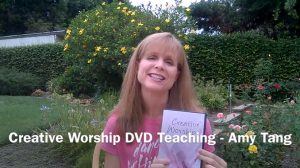 I'm excited to share a resource for worship dancers that I love and I think you will.
The activities on this DVD will:
• enhance your team unity
• help build leadership skills
• add variety and interest to group movement, and
• stimulate your creativity and the creativity of those on your team.
In the Creative Worship DVD, Lynn Hayden explains and demonstrates a multitude of activities that can be used in praise and worship dance with groups to add variety with spontaneity. Below is a tutorial of one of my many favorite activities from the DVD:
Beginning with mirroring exercises, a team can gain skill and experience following a leader. From there, dancers can move on to follow a leader who's facing the same direction as they are.
Lynn goes on to show many ways to adapt this concept: having a leader move for four counts and have the partner or group repeat those movements for the next four counts; clustering the group and having members kneel, stand, or lunge while one leads movements (described in my tutorial); placing members in a north-south-east-west arrangement so that, depending on what direction the group faces, a different person leads them movement; and having one member at a time break away from the group movement to do some more complex choreography.  The possibilities are endless
The purpose of these activities is two-fold: to add variety to choreography and to allow for what Lynn calls "planned spontaneity."  Planned spontaneity is when a leader is able to give the group a few simple instructions and the group, from that, is able to create dynamic and interesting choreography for a worship dance.
I have gained so much inspiration from this DVD for my choreography, for warm up activities to do with my dance team, and for activities to use in class with children. The genius with these concepts is that the movements are simple. You can ask anyone to lead for a time. The interest and complexity comes from the shape of the group,  from changing leaders, or from changing the direction or level of the dancers. Because of this, anyone can take a turn leading. This both empowers dancers at every level and inspires their own creativity.
You could lead a whole workshop using this DVD. Some of my favorite choreography ideas have come from the activities Pastor Lynn describes. If you are leading a team, if you are teaching a workshop, I encourage you to purchase this DVD and/or the Creative Worship Book. You will explode with creative ideas.
To purchase the DVD for $26, click DVD. To purchase the book for $13, click book.