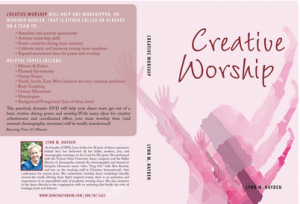 Price: $20
Creative Worship – Video Product Description:
This revised edition is professionally edited and includes many more examples than the first version. It will be sure to give you the ideas for worship that you need.
This video will help any worshipper, or worship dancer, that is either called or already on a team to:
Stimulate and activate spontaneity
Activate leadership skills
Foster creativity during team ministry
Cultivate unity and harmony among team members
Expand movement ideas for praise and worship
HELPFUL TOPICS INCLUDE:
Mirrors & Echos
Planned Spontaneity
Group Shapes
North, South, East, West (solution for very common problem)
Body Sculpting
Unison Movement
Monologues
Background~Foreground (lots of ideas, here)
This practical, dynamic DVD will help any dance team get out of a basic routine during praise and worship. Instead of spending most of the worship time either following the leader or individually dancing, this video will give many ideas for creative cohesiveness and coordinated effort. Your team worship time (and internal choreographic structure) will be totally transformed!! Be sure to add this one to your cart today. You need this one.
This video goes hand in hand with the corresponding book "Creative Worship."
Running Time ~ 65 Minutes
Price: $20