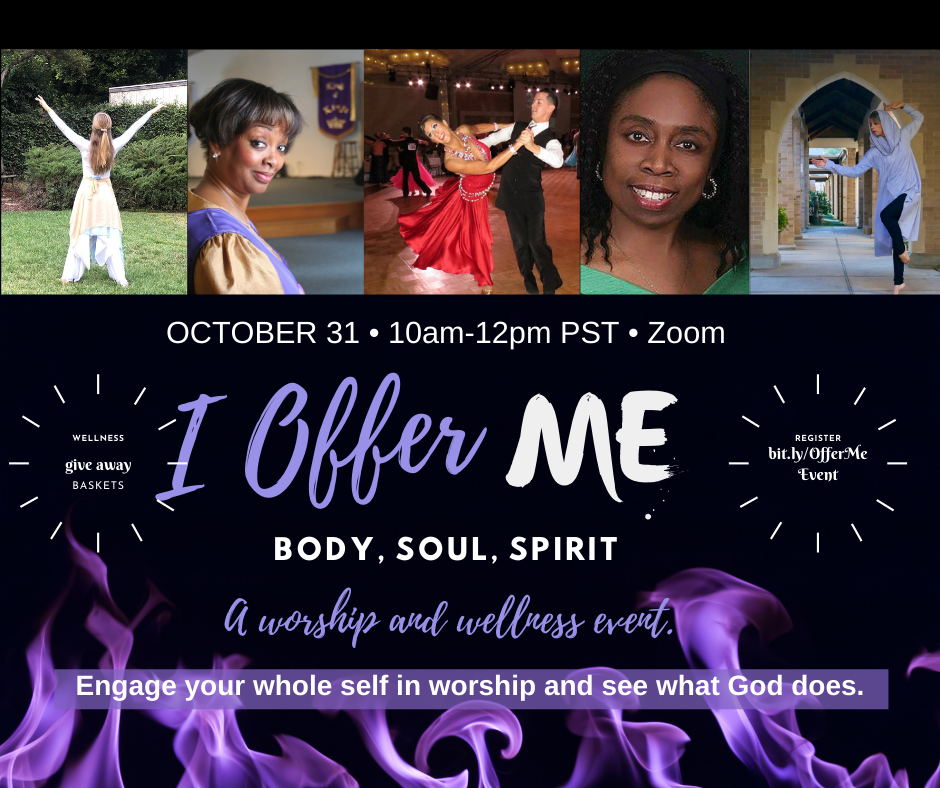 Next workshop: I Offer Me – Body, Soul, Spirit
Worship Dance and Wellness Workshop with Amy Tang, Cynthia Newland, Nanette Levons, Barbara Egbert, and Jennifer Boddie
Join us for a time of prayer, movement, teaching, and stories.
You will receive movement and ministry ideas and practical teaching on how to care for your temple for longevity and for glory.
Engage your heart, mind, soul, strength in worship and see what God does.
Click here for more information or to register
Romans 12:1 "Therefore, I urge you, brothers and sisters, to offer your bodies as a living sacrifice, holy and pleasing to God. This is your reasonable service."
The Bible shares stories of God's people dancing before the Him, kneeling, and laying prostrate in prayer. In Movement & Dance in Worship workshops, participants look at dance and movement in the Bible, are introduced to basic dance skills, learn simple movements that can be an expression of worship, and experiment with movement. Whether or not you have any dance background, whether you desire to dance in a worship service or only in the privacy of your personal time with Jesus, these workshops will enhance your experience of worship and equip you to express your love for Jesus in movement.
Previous Workshops:
Devotion in Motion – June 14, 2015 Pasadena, CA
Unlocking Movement that Speaks (with Marlita Hill) – January 31, 2015
Worship in Motion – October, 2014 Pasadena, CA

If you would like to be added to a contact list to learn about future workshops, please contact me.