What Child is This
If you read my last blog post, you saw a version of the worship dance to What Child is This by Alberto Rivera. I loved learning that choreography from Pastor Lynn Hayden of Dancing for Him ministries and was so grateful to have an opportunity to minister that dance last week to a community that I serve here in Pasadena called Centennial Place. However, based on the conversations I had afterward, I sensed that there was something missing from my presentation. You can read the blog post to learn what I sensed that was.
But the gift in that whole experience was that it nudged me to dive deeper into the experience of preparing the dance to worship the following Saturday on Christmas Eve at my home church, Missio Community Church.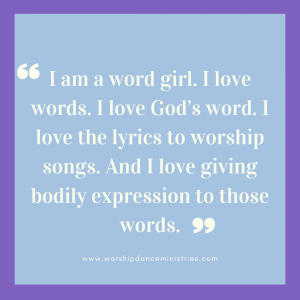 My husband encouraged me to select a song with lyrics. (The song it was originally choreographed to was instrumental, a beautiful piece that I have been enjoying all month). Truly, my calling and gift lies with interpreting the words to a song or scripture. I am a word girl. I love words. I love God's word. I love the lyrics to worship songs. And I love giving bodily expression to those words.
Even so, I resisted my husband's suggestion because I expected that to be really difficult work. When I asked for the opportunity to minister the dance, it was partly because I had choreography in place already, given to me by someone I love and trust, and I was grateful not to have to take on the hard work of choreography, as joyful as that work was.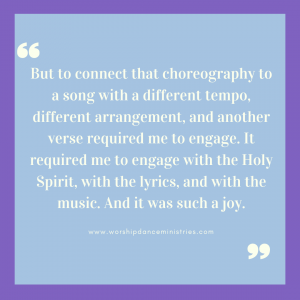 But the Lord gave me enough. nudging and willingness to go back and choose a version of the song with lyrics, and as soon as I let go of my resistance, I found so much joy in reworking the song. You may not even see the reworking. As I look at the finished dance, I see that 90% of the choreography came from the original piece. But to connect that choreography to a song with a different tempo, different arrangement, and another verse required me to engage. It required me to engage with the Holy Spirit, with the lyrics, and with the music. And it was such a joy.
I'm very grateful for the way the dance came out. I felt such joy sharing this with my congregation and playing my part in illustrating the wonder of the incarnation. I hope that you are blessed by watching it.
I'd love to hear from you. Do you prefer to dance to instrumental music or songs with lyrics? Do you find the Spirit is expressed through you more fully in spontaneous movement or in choreography that you labor over in the studio and in prayer ahead of time?