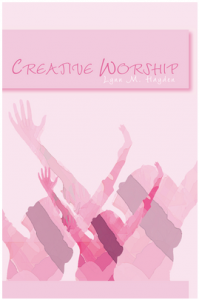 Price $13
Creative Worship – Book Product Description:
Do you need some fresh ideas?

Is your worship dancing in a "rut"?

Do you want some creativity in your choreography?

Then Creative Worship is for you…

Including many descriptive photographs, this book will help any dance team get out of a basic routine or 'rut', experienced during praise and worship. Instead of spending most of the worship time either following the leader or individual dancing, this book will give many ideas for creative cohesiveness and coordinated effort.
This book will help any worshipper, or worship dancer, that is either called to or already on a team to:

Stimulate and activate spontaneity

Activate leadership skills

Stimulate creativity during team ministry

Cultivate unity and harmony among team members

Expand movement ideas for praise and worship & choreography
HELPFUL TOPICS (EXERCISES) INCLUDE:
Mirrors & Echoes

Planned Spontaneity

Group Shapes

North, South, East, West (solution for very common problem)

Body Sculpting

Unison Movement

Monologues

Background~Foreground (lots of ideas, here)
These exercises were taken from a Creative Worship class, during a Dancing For Him workshop, and can be easily executed during dance team practice times. The result will totally transform dance team worship!!

This book goes hand in hand with the corresponding, supplemental video: Creative Worship. Be sure to get that too!
Price: $13