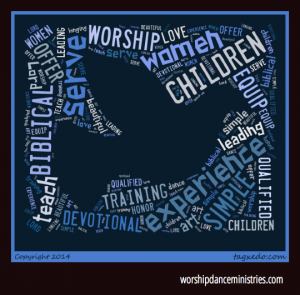 1.  Do you know and love Jesus and have a longing to dance but doubt you are qualified? I teach people of all age levels how to use movement and and dance to worship Jesus.  I specialize in teaching children and those without dance experience how express their hearts to God by building a vocabulary of movement using simple everyday movements, expressive sign, and beginning level modern dance.
If you live near me, watch for local workshops.  Whether you want to learn to worship the Lord in private or have a desire to lead the congregation as a worship dancer, you will go home equipped with new vocabulary, biblical understanding, and tools for worship.
2. Do you have years of dance training that you want to learn to use to honor the Lord? I also help experienced dancers how to use their art to glorify God by teaching them the biblical basis for dance, how to make sure their dance tells a story, and how to choreograph and dress in a way that is "church friendly."
In my worship dance curriculum "And a Child Shall Lead Them – Ten Worship Dance Lessons for Children," I instruct teachers, leaders, and parents how to lay a biblical foundation for dance for their children, how to build a vocabulary of worship, how to dance the scriptures, and how to keep a kingdom mindset through it all. The book has clear lesson objectives, lists of songs to choose from, photos, lists additional resources, and two short videos that come with it that include teaching by me, live footage from my classes, and photos of signs and gestures that you can incorporate in your own choreography to tell God's stories. You can take this curriculum, add dance technique teaching, and have a rich, Christ-centered worship dance curriculum.
I also have a wealth of books and DVDs for sale on  my site which were created by Lynn Hayden, of Dancing for Him ministries. These are excellent resources for everything from ballet and modern dance instructions to teaching about prophetic dance. If you want to be equipped to use the art of dance to worship Jesus, take a look at these resources.
In addition, if you live local to me, I would love to partner with you in dance workshops. I would love to partner with someone who could offer more dance technique while I teach the biblical aspect of dance, dance ministry, and simple movements to use in worship.
3. Have you been trained in the art of dance, its biblical basis, and are you experienced in leading others? Praise God. I invite you to come alongside me as I invite others into the dance. I love to connect new worship dancers with the people and resources to help them grow. I know I don't have it all, and I love to work with others who have skills and knowledge that can help me and others. I would love to partner with you in equipping women and children to worship through dance. (By the way, I know worship dance isn't just for women and children. It's just that I feel especially called to this group of people because who I am, how I dance, and what the Lord has put on my heart.)
Let's share resources and ideas. Let's get connected if we aren't already on Facebook. Comment on my blog, share your wisdom and expertise and invite others to your website. Let me know if you would be open to being interviewed for my blog.
4. Last but definitely not least, are you a parent with a child who loves to dance who wants to nurture their love for dance in a Christ-centered environment? Get my worship dance curriculum, "And a Child Shall Lead Them – Ten Worship Dance Lessons for Children." I wrote this book for people like you. While I have sold many of these to dance ministry leaders, you were on my heart and mind when I wrote it.
This book was written for parents to use at home to lay a biblical foundation for dance with their children and to invite the joy that comes through dancing Jesus into your home. The lesson plans are laid out for you. The movements are simple. There are pictures and videos to guide you. And you can even hand the book to your older child and let them go.
Here's what one mother said about the children's worship dance classes I teach. It captures what I pray happens in the classes I teach:
"I cannot begin to tell you how much my daughter enjoyed the dance class.  She came home dancing every week!  It was so worshipful and wholesome….the perfect way to experience dance in a Christ-centered environment."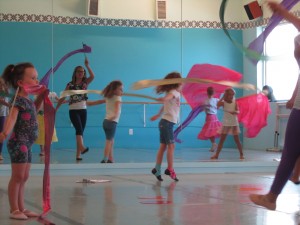 If one of those questions described you, let me know. Share in the comment section, let me know more about what your  needs are. As the Lord opens doors, I would love to serve you.