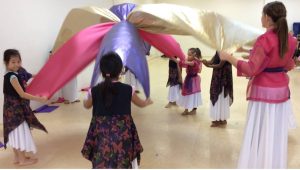 Of all the praise dance classes I've taught children over the year, this year's praise dance camp brought me a particular joy. This group engaged with the spiritual content with more depth of understanding than I have experienced before. Their answers reflected that they have been taught to love and worship the Lord at home and that they truly listened and received the lessons God gave me for them.
In this post, I share several that blessed me and a 3-minute highlight video that brings these comments to life.
When I asked the children, "What is honor?" They one child replied, "When you treat someone with respect because you know that how important they are."
When I asked them, "What is wonder?" They gave me answers like, "When something is so amazing you can't describe it."
When I asked, "Why is gold the color for God's glory?" they replied, "Because it's beautiful. Because it's valuable. Because it is so special." As I taught them, I learned.
Even so, kids are kids. There were times during what we called "Artistic Worship" (a term I learned from Lynn Hayden to describe a spontaneous time of worship, when the leader directs the worshipers to use props and movement to create a beautiful tapestry of worship) when the girls were vying for props, running and crawling under the billows, and crashing into each other. They weren't being bad, but they were being silly, making me wonder where their hearts were at those moments.
This was the case at the end of Thursdays' class. So, I prayed before Friday's class about how to reach their hearts, how to help them approach our celebration with parents with a true heart of worship.
I began our teaching time on Friday morning by asking the girls, "What is worship?" and "Why do we worship?" Their answers reassured me that, even though their behavior was sillier than I liked the day before, they got the most important lessons from camp. Some of their answers were basic, but nonetheless true, like these:
Worship is thanking God for what He has done.
Worship is praising God.
Worship is when you glorify God.
Others reflected having truly listened and heard the lessons throughout the week:
Worship is when you use your body to give praise to God.
We worship Him because He is the King.
We worship him because of His majesty.
We worship Him because He did for our sin and made us clean.
If you get all dressed up and have a beautiful tiara and an elegant dress, but your heart is hard, it's empty worship. You can have a plain dress and have your heart full of worship.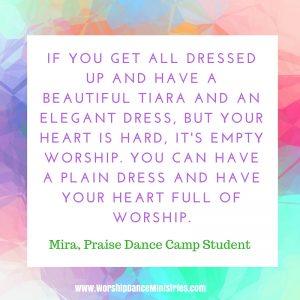 And other answers were profound and went deeper than what we had talked about together, bearing witness to the teaching of their parents and the work of the Spirit in their lives:
Worship is when you adore something/someone so much that you would do anything for them.
When you worship, God shows you what is inside your heart.
I share this with you so you can celebrate what God is doing in the hearts of children. I share it because many of you prayed for this camp, and I want you to hear how the Lord answered your prayers. And I share them so you can share my joy.
Here is a 3 1/2 minute recap of our week together. I hope you are blessed by it.
If you are looking for tools to help you to teach these concepts to children or adults, here are 7 fantastic DVDs and books by Lynn Hayden from which I gained ideas about concepts, choreography, and activations for this camp:
Please take a minute to join the discussion and share in the comments. I'd love to hear from you:
If you are planning a praise dance camp, what is one thing you want children to say at the end of it?
Or, what do you think is the most important truth about worship that adults and children alike need to know?
Or, what touched your heart about this video or these children's comments.