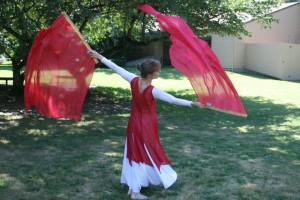 Flags add beauty and glory to the worship experience.
They can be powerful tools for spiritual warfare.
Children will much more readily dance spontaneously if given a flag.
And flags are expensive!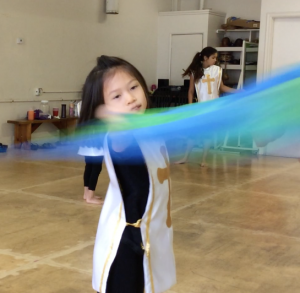 As I was preparing to teach worship dance this next year at my church, I found myself longing for a full set of child-sized worship flags. I'd love to have 10-12 sets of flags, enough for a room full of children to have their own flag or set of flags with which to worship. I researched the best prices for child-sized flags (The lowest price I could find, buying in a large quantity, was $11/flag. Most were between $15 and $20).
So, I decided to see if I might be able to make some simple flags, even though I'm not a seamstress (I do have a sewing machine that I know how to use). I found several tutorials online that were extremely helpful. So, I wanted to share with you a synopsis of what I learned and one  anointed tutorial on flag making that was looked doable for an unskilled sewer like me.
Materials: For a child. you want a flag to be about 17″x24″. A little smaller will work. So, for one set, you'll can use 3/4 of a yard of fabric with a width of 42." You'll also need a 3/8" dowel, cut in half and sanded, giving you two dowels about 17″ long. While there are several ways to make the flag, here is a method that seemed both simple and beautiful to me:
As for fabric, crystal organza, silk polyester, or tissue lame work well. On average, those sell for $6-$7 per yard; however, with a coupon or during a sale, you can find them for 40% off normal prices at Joanne Fabric or WalMart.
What to do: (Taken from the video How to Make Warrior Worship Flags by Called to Flag.)
First, fold the fabric in half and cut along the fold. so that you have two pieces of fabric that are 21″x24″.
Next, fold the edges of the fabric in 1/2 " and use a zig zag stitch around them to seal them off.
Next, you'll create a sort of pocket along the side of the flag for the dowel to slide into. Fold one edge of the fabric (one of the 24″ edges) over 2 1/2 inches using a ruler. Pin it.
Then fold the fabric over itself again, removing the initial pins and pinning it again. Using a normal foot on your sewing machine and a straight stitch, stitch across, leaving a 1″ space for the dowel and making sure the fabric is neatly tucked throughout.
After that, sew over that stitch with a zig-zag stitch for strength. Finally, seal off one end of this pocket, by stitching it closed, so that the dowel does not slip out. Do this by stitching over one end of the pocket back and forth four times.
You can now simply slide the dowel in. It will be shorter than the flag, so that you have a flap of the flag that flows freely. You can easily replace the dowel, if needed by sliding it out.
You can watch the entire video here: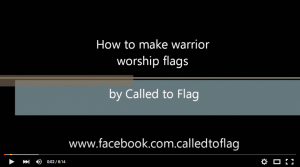 I'm excited to try creating a flag and hopeful that I can make a set for my students at a price I can afford. I have not made these yet, but will post when I do.
Take time to join the discussion and share in the comments:
Have you made worship flags before? Please share your best tips on sewing and materials?
Or, if you have a favorite seamstress whom you buy from, share that in the comments, too. Sometimes we don't have the time, resources, or confidence to do it DIY. It's great to know who we can turn to.
Resources for using flags in worship:
If you would like ideas for choreographing dances with flags, I have several great resources by Pastor Lynn Hayden on using flags for worship and for warfare. Check them out: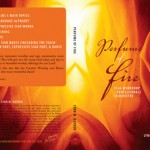 Perfume of Fire DVD: (It is full of 1 Hour and 58 minutes of flag ideas as well as an entire processional/ministry dance. )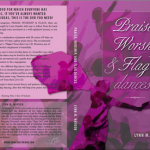 Praise Worship and Flags DVD: (If you've always wanted choreography ideas, dance patterns to put with any music or dances to follow and learn, this is for you.)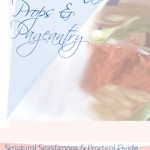 Processionals, Props and Pageantry Book: (An extremely comprehensive guide about the subjects. Each section with information on Scriptural Significance and Practical Instructions for using flags and props.)