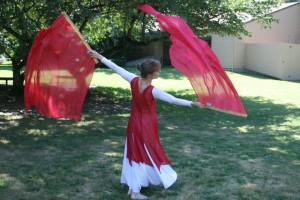 Flags add beauty and glory to the worship experience.
They can be powerful tools for spiritual warfare.
Children will much more readily dance spontaneously if given a flag.
And flags are expensive!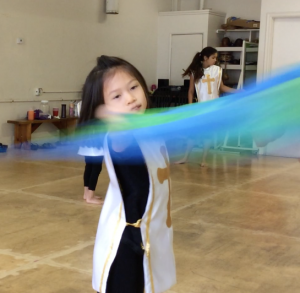 As I was preparing to teach worship dance this next year at my church, I found myself longing for a full set of child-sized worship flags. I'd love to have 10-12 sets of flags, enough for a room full of children to have their own flag or set of flags with which to worship. I researched the best prices for child-sized flags (The lowest price I could find, buying in a large quantity, was $11/flag. Most were between $15 and $20).
So, I decided to see if I might be able to make some simple flags, even though I'm not a seamstress (I do have a sewing machine that I know how to use). I found several tutorials online that were extremely helpful. So, I wanted to share with you a synopsis of what I learned and one  anointed tutorial on flag making that was looked doable for an unskilled sewer like me.
Materials: For a child. you want a flag to be about 17″x24″. A little smaller will work. So, for one set, you'll can use 3/4 of a yard of fabric with a width of 42." You'll also need a 3/8" dowel, cut in half and sanded, giving you two dowels about 17″ long. While there are several ways to make the flag, here is a method that seemed both simple and beautiful to me: Continue reading "DIY Worship Flags for Children"