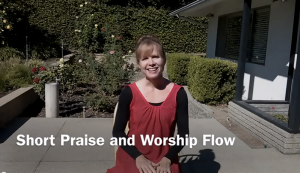 Do you ever get a worship song just days before you need to dance to it?
Would your worship leader like you to dance more often in praise and worship than you feel your team can prepare for?
Do your team members need a chance to spread their wings and lead?
If so, you will love learning how to use what Lynn Hayden calls "planned spontaneity" to choreograph a powerful and unique dance in a very short time.
In the video that follows, I explain how I planned out a worship dance for a team of five or more dancers – planning out the props, colors, formations, and basic flow – that, with leadership from different team members, they could implement with just these simple instructions. 
The ideas for this dance came from the Creative Movement DVD by Lynn Hayden.
Do note, that this is distinct from a choreographed dance which you plan out in detail and rehearse well ahead of time. There is a time for that kind of planning and precise preparation, and I'm not encouraging you to try to short change that process. (Although you can borrow still borrow ideas used for planned spontaneity to add variety and dynamic to your choreographed dances.)
Planned spontaneity, though, is best for when you need to put together a dance and are not given weeks to prepare. Using it, you will empower your team by giving them bite-sized opportunities to lead. Together, you will create dynamic dances, led by the Spirit that minister.
You can purchase the Creative Worship DVD at my store.
Take a minute to share in the comments your experience leading in worship when you haven't been given weeks to prepare. How did it go?