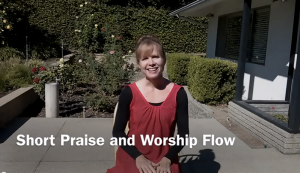 Do you ever get a worship song just days before you need to dance to it?
Would your worship leader like you to dance more often in praise and worship than you feel your team can prepare for?
Do your team members need a chance to spread their wings and lead?
If so, you will love learning how to use what Lynn Hayden calls "planned spontaneity" to choreograph a powerful and unique dance in a very short time.
In the video that follows, I explain how I planned out a worship dance for a team of five or more dancers – planning out the props, colors, formations, and basic flow – that, with leadership from different team members, they could implement with just these simple instructions.  Continue reading "Choreographing a Dance on Short Notice"