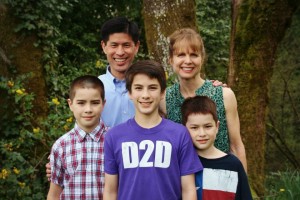 Last night a fellow dancer asked a group of dance ministers in training, "For those of you who are married, how does your dance ministry affect your relationship with your spouse?"
I felt that burning in my heart that says, "This is your question to answer. Speak to it," and it's not because I have the balance between home life and dance ministry down. On the contrary. This is something God is dealing with me now.
Maybe he wanted me to speak up to help me keep honest with myself by being honest with others. And maybe He wanted me to speak up because it might be helpful to others who feel the tension between their sense of calling to dance ministry and meeting their responsibilities at home for me to share both where I have failed and what He seems to be saying to me.
First, let me say that my husband is supportive of my love for dance and my calling to dance in worship. When he served as a pastor, he made space for me to dance in our congregation, even though our congregation was pretty unfamiliar with dance, and it stretched the comfort zone of many to have dance in church. My husband loves to watch me dance. He is moved by the beauty of worship dance and appreciates the way the Lord works through it. He is no naysayer. He errs on the side of trusting my judgement when I feel called to a ministry task – be it teaching a class, taking a class, offering an online course, keeping up my blog. He is reluctant to say, "I don't think you should do that. You need to give more to us at home," because he doesn't want to clip my wings.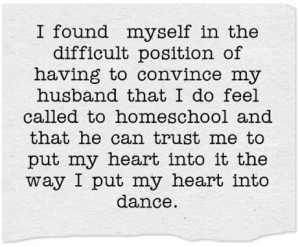 As a result, I make most of my decisions on my own, without his input.  In that freedom,  I have given to dance and to my online ministry time that my family is needing. When it's just up to me, I overcommit with dance ministry.
I find it very easy to say, "Not now, honey," to my boys when they interrupt my practice, my blogging, my Facebook updates. I'm a homeschooling mom, but have put 90% of my passion into dance ministry and only 10% into being creative in teaching and discipling my three sons, and it shows.
Our experience of school the last year has been so lack luster that everyone, including me, seriously considered abandoning home schooling this fall. However, when I prayed about it, the Lord did not give me peace about that. He did not release me to put my kids in school. So, I found  myself in the difficult position of having to convince my husband that I do feel called to homeschool and that he can trust me to put my heart into it the way I put my heart into dance.
When it came down to it, I realized, as much as I love to dance and to lead and equip others to dance in worship, when I sit in my rocking chair and look back over my life, what I want most is to see my children walking with Jesus, loving each other, loving and honoring their dad and I, and raising up the next generation of Jesus followers. Being a wife and mother is my primary calling.
So, I told my husband that I wanted him to help me decide what to do and not do in terms of dance ministry this year and that I was willing to lay any or all of  it down, if needed. Tonight we are going out to coffee to look over the many activities I'm involved in and decide which ones need to go. I'm praying to lay down my will about the matter. If all I'm left with is the freedom to dance alone in private worship, I will do that, joyfully.
I'm not worried that God will take something good away from me. That's not the way He works. When He takes away, He does it for our good. I'm looking forward to having more integrity in my family, greater unity with my husband, and harmony at home.
I know, because someone asked the original question, that I am not alone in wrestling to find how my calling to dance fits with my family. Some of you may wrestle with this as well.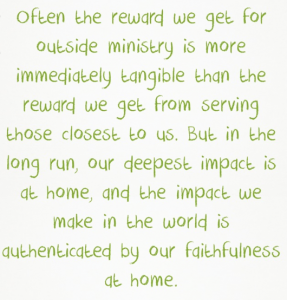 In Titus 2:4, older women are encouraged to teach younger women to "love their husbands and children." I think he points that out because he knows how much easier it is to love and make time for those outside our home. Often the reward we get for outside ministry is more immediately tangible than the reward we get from serving those closest to us. But in the long run, our deepest impact is at home, and the impact we make in the world is authenticated by our faithfulness at home.
Maybe your husband and kids completely affirm your call and serve alongside you. You are an inspiration to me, and I praise God when I see you. I want to learn from you.
Maybe your husband doesn't affirm your call. You are in a tough position. Before assuming this means you have to lay it down, I encourage you to have an honest conversation with him about why? Does He feel neglected? Left out? Does He not understand dance ministry? Talk about it, lay it before the Lord in prayer. It may be in the conversation and the prayer that you come to agreement about your calling.
Your answer won't look just like mine because you aren't me and your aren't married to my husband.
I'd love to hear from you though. Please respond in the comments section. Does the question strike a chord with you? What does it look like in your life to be faithful in your ministry at home and faithful in ministry outside the home?