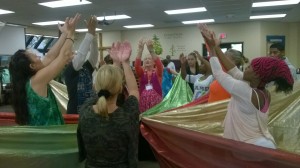 So many of you prayed for the Holy Visitation Dance conference I hosted last week in Oregon. He answered those prayers and many others, granting us an amazing time of worship, of learning, of healing, and of building relationships.
Read on to hear what we asked of the Lord and how He generously responded as well as to see a 4 minute recap of the conference.
1. He released finances for people to come from from the north, south, east and west. We asked for this, and he said, "Yes!" There were dancers from South Caroline, New Jersey, Texas, Japan, and California, in addition to those from Washington and Oregon. I was moved by stories of how God provided for people who felt that
2. He brought men. There were five men, including two young adults who came. I was blown away. I am such a girl's girl, and my style of dance is so feminine. Earlier this year I shared that I felt like God wanted me to connect with men who dance, to learn how to worship with them, because together men and women reflect God's glory more completely. So, in a conference of 40 attendees, He led 5 men to attend. I wish I could share details about their stories, but they are not my stories to tell. But I can say that it was a blessing to see them worship, minister and receive healing.
3. He gave Pastor Lynn inspiration from the throne room, giving her songs and activities that spoke intimately to people. One dear friend received healing from a memory from years ago that had left her confused and hurt. The song Pastor Lynn chose spoke directly to the incident that hurt so much and the Lord gave her a new word, a new picture, and called her to spread her wings and fly. There were many similar stories in which a song, or a movement, or a scripture spoke directly into someone's life and pain and brought healing.
4. He covered the details. We had a completely full room of people. Our church isn't large. We couldn't host 100 people, but we could host over 40, and that's  how many He brought. He provided host families for several of the attendees, gracious women from our church to plan a lunch that made space for an amazing time of fellowship. He awakened me each morning just a few minutes before my alarm went off and gave me strength to match the day.
5. He showed up. We asked that His presence would be so strong that none would be able to stand. As one attendee put it, "The presence of the Lord is thick here. I could feel it the minute I walked in the room."
If you haven't already watched it, take 4 minutes to watch the recap video to see what happened. If you haven't attended a Dancing for Him Conference, yet, I encourage you to pray about going to one.
You will learn many new skills for choreography and dance as well as ministry leadership.
You will build friendships.
You will enjoy the presence of the Lord. You will minister and be ministered to.
You will go away equipped, empowered, and wanting to dance more.
If you've attended a Dancing for Him conference, please share in the comments how God met you there.