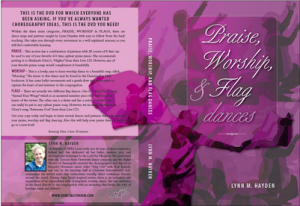 This is the DVD for which everyone has been asking. If you've always wanted choreography ideas, dance patterns to put with any music or dances to follow and learn, this is the DVD you need!
The Praise, Worship and Flags DVD contains four already choreographed dances for a group or a solo dancer with easy to follow instructions. Three of the four dances could be done with any 4-4 timed music. The first are praise dance steps and the last two are flag combinations. The second dance is a very expressive dance combined with ballet set to a Will Bozeman song.
To learn more about the DVD and watch a 5 minute teaching from the DVD with choreography you can use, read on.

I love the idea of having already choreographed dances that can be used with different songs. How awesome is that? You can use the song that is on your heart, and have choreography that will fit with it.
I have many people ask for help with choreography and even ask for already choreographed dances. I love that the first dance and the flag dances can be adapted to any song with 4-4 time.
The second dance is possibly my favorite because of how expressive it is. There are expressive movements that I have not seen or used before that I look forward to incorporating in my choreography. I also think be morning dance makes a powerful dance to use in my devotional time.
If you've been asking for dances that are already choreographed, if you want some to build your flag movements, and if you want to add to your expressive dance vocabulary, you'll love this DVD.
Price: $26