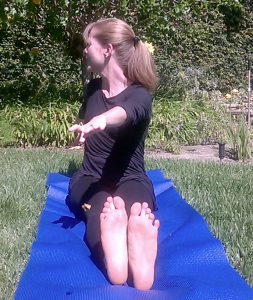 Would you like to be more flexible?
Would you like to move more freely
Would you like to help prevent injuries while dancing?
Would you like to develop in your body longer, leaner lines?
Would you  like to be more relaxed?
If so, I have a great resource for you. Read on to watch me teach 3 minute tutorial from the DVD and to learn about what I love about this DVD.

I am using and loving the Balance and Stretch DVD by Dancing for Him. Every semester, as part of my Dancing for Him certification program coursework, I'm assigned a different set of two videos to use twice a week for technique and conditioning.When this past semester ended and I had to move on from the Stretch and Adoration DVD, I felt grieved. I have seen noticeable changes in my flexibility and feel stronger over all.

So, I was pleasantly surprised to learn that this semester my weekly assignments include the Balance and Stretch DVD. The Balance and Stretch DVD gives you a 50+ minute workout focusing on…you guessed it…balance and flexibility.  It uses and builds on some of the flexibility exercises from  Stretch and Adoration and adds the element of balance.

I have always struggled with balance, so this is perfect for me. Pastor Lynn guides you through the exercises with very clear instructions, gentle reminders to go at your own pace, and also different modifications so that you can work at your own level, challenging yourself or scaling back, depending on where you are at.

The video finishes with a relaxation exercise that I love. Sometimes it puts me back to sleep. 🙂 But usually, it just gives me the refreshment I need to get going with my day.

You can learn more about the DVD and purchase it here.

Take an minute and let me know what you think of  the tutorial in the comments section. Also, if you have stretched regularly and experiences some profound benefits, please share about those. I'd love to hear from you.