Need movement ideas?

Do you want to know what components make up a dance?

Do you want an unlimited source of ways to get more ideas to enhance your choreography?
Would you love to know the Do's and Don'ts of choreography to save you lots of mistakes?
You will love the Dance Composition DVD by Dancing for Him. This DVD stimulated many creative ideas for me.  In the video above, I teach a few of the concepts from the DVD. Read on to hear more about the DVD and to purchase it.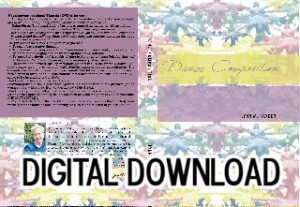 Early in my choreography, I considered the dancer's movements – their gestures, steps turns, etc. – but did not include much to vary their movement relative to each other. So, the ideas from this DVD and the Choreography Tips I DVD have opened up so much for my choreography – making group shapes, varying pathways on the floor, including opening and closing movements for the group as a whole. Now that I am considering all these things, my choreography has become more interesting and more impactful. I have also used several of these ideas in workshops and classes with children. They love creating their own movements, and these suggestions give them the tools do do that.
The purpose of the Dance Composition DVD is to simulate creative thinking for the dancer, to help them discover variations in choreography, so that they can present well and minister effectively. We are to incorporate these ideas into the divine inspirations the Lord gives us. Pastor Lynn teaching on choreography is based on Laban's Analysis of movement. She teaches how to use action phrases such as travel, turn, open and close in our choreography. Then, she teaches how to add quality variations to these phrases, variations in levels, size of movement, direction, and pathways, to add variety and interest to these phrases. By combining action phrases with quality variations, there are countless ways to add variety to dances.
If you are looking for choreography ideas, you will love this DVD.
Price: $26 (temporarily out of stock)