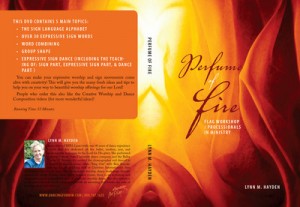 "There is so much more you can do with flags than to wave or twirl them in a certain way." On the Perfume of Fire DVD, Pastor Lynn Hayden teaches how to use flags expressively to create worship words and worship phrases. She demonstrates group several group activities you can use in a ministry time or workshop. Then she finishes by teaching a worship dance with flags that you can use in ministry.
Read on to read three things I loved about this DVD and to see a 5 minute video teaching I created from the DVD's teaching. (You can purchase it on my store.
1. I love the biblical teaching: Pastor Lynn explains that tenuphaw is the Hebrew word for a wave offering. Tenuphaw is defined as "a perfume of fire, incense to God, restful delight, undulations of offering. It means to quiver, vibrate up and down, lift up, move, to send, shake, shift, strike. It is a sweet smelling savor drives out enemy. It leaves a sweet savor of life and rest." So, when we praise Lord with waving hands, it can activate peace and rest and drive out the enemy of our soul, enabling ministry to happen.
2. I loved building an expressive vocabulary with the flags: I have always loved using expressive sign in my choreography. I have also sometimes felt limited when dancing with flags, aware that my movements felt repetitive. So, to have a collection of worship movements that express specific words, really expanded my ability to choreograph with flags. I also loved the group activities. I look forward to using these in workshops. The group shapes were powerful and beautiful.
3. I loved the choreographed dance at the end: The choreographed dance used simple but powerful movements that repeated, movements intended to drive out the enemy and invite the Lord's presence to heal. I thought this dance would be ideal for a time of prayer ministry or soaking time. Because the moves were not complex in and of themselves – the complexity came from the formations and the relationships between the dancers and the props, rather than from the dance moves – this dance could also be good for a group of children or worshipers without dance training.
If you want to dance with greater power, understanding the biblical significance of what you are doing, if you are looking to add creativity and meaning to your dances with flag, or if you are looking for a choreographed dance to teach your team for a time of ministry, make sure to purchase this video.
Price: $26