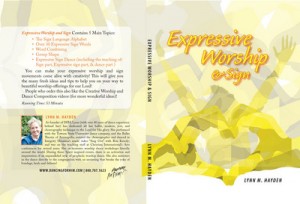 Do you want your dances to tell a story?
Do you want to build your worship vocabulary?
Using expressive sign in dances is one of my favorite ways to tell stories through dance. The woman who first introduced me to worship dance borrowed heavily from sign in her dance. It was mesmerizing to me to watch the expressive gestures combined with dance.
For years, my worship dances consisted almost exclusively of signs and gestures. These signs and gestures went a long way in helping me choreograph simple dances for myself and others.
When I found this DVD by Lynn Hayden of Dancing for Him, it greatly increased my expressive vocabulary. I especially love using expressive signs when I teach children and new dancers. The movements are simple for and memorable to the new dancer. In addition, they are powerful in telling stories and embodying the words of the songs to which we dance.
Also, I find that when I give others an expressive vocabulary, they begin to see expressive choreography when they hear songs. They begin quickly to adapt the signs themselves to create new gestures. So, their creativity expands.
This DVD filled my tool box for choreography and teaching. The Expressive Worship and Sign DVD gives the worship dancer a vocabulary to express their worship and to tell God's stories. Pastor Lynn teaches over thirty signs for words that we often use in worship. Ten she goes on to tell how you can use those and/or modify them, making them bigger, embellishing them, and adding dance moves like the the pivot turn, the lunge, and the soutenu turn to add variety and to suit them to your dance. The purpose is not to speak in sign language but gain inspiration for movements that express our worship.
Every time I share about one of Lynn Hayden's videos, I want to say, "This is my favorite video," and I want to say that here. I have several favorites. This is one of several that impacts my dancing each time I teach and choreograph. Whether you are leading others or just wanting to enjoy adding more movement to your private worship, you will love this DVD and gain great benefit from it. You can learn more by clicking here, or just go ahead and purchase it. You'll love it. Take a minute to watch the video below in which I teach a short exercise from the DVD.
Price: $26