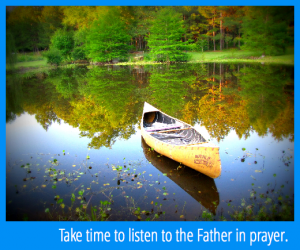 I used to think that prayer was about me tapping a very busy God on the shoulder and saying, "Lord, _______ is hurting. Please heal her," or, 'Lord, __________ is under spiritual attack. Please defend him." But I'm learning that prayer is more about God tapping a very busy me on the shoulder and saying, "Amy, I want to heal ___________ and I want you to speak it into being." Or, "Amy, _____________ is under spiritual attack. I'm ready to release power, and I want you to declare my victory in his life."
When a friend and teacher, Cathy, shared this understanding of prayer with me, it changed the way I prayed. I began to see that prayer is not so much about me convincing God to act in the world as it is about me releasing the authority He has given me through Jesus to bring about His kingdom, to do the good works He stands ready to do in people's lives.
In John 5:19,20, Jesus said, "Very truly I tell you, the Son can do nothing by himself; he can do only what he sees his Father doing, because whatever the Father does the Son also does. For the Father loves the Son and shows him all he does."
In light of this, prayer is more about listening to the Father to find out what He wants to do, and then speaking it into being. If I am willing to listen, to be attentive for that tap on the shoulder, that quiet thought that pops into my mind, for that nudging of the Spirit, I get to be the vehicle He uses to bring healing, deliverance, encouragement, provision that He wants released in someone's life.
Listening in prayer is much more of a challenge to me than talking. Early on in my marriage, my husband admitted that he didn't really like praying with me sometimes because I pray so long. Ouch. That hurt. My husband is much less wordy than I am in prayer. Instead, he spends more time listening to God. When he does speak, his prayers are powerful and effective.  From him, and from my friend Cathy, I'm learning to listen for what the Father is up to. Instead of telling God what I need Him to do in someone's life, I need to listen for what He wants to do into their lives. Then I can pray with confidence, speaking into being His plans to bring about His Kingdom. Sometimes a scripture comes to my mind and I pray it for a person. Other times, I don't hear anything specific. In those times, I can just say, "Lord, I say 'Yes,' to whatever you are doing in that person's life."
Some of you have shared specific prayer requests with me, and I am praying for you. I'm working on not just voicing my hopes for you, but listening to what the Father is doing in your life. If you would like me to pray for you, please let me know.
Thank you to those of you who are praying for the dance classes I am teaching now. I have sensed God's Spirit at work through your prayers.