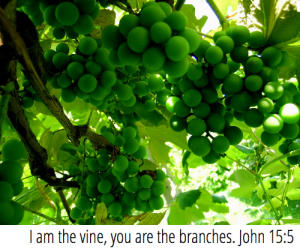 God has called me to lead a prayerful dance ministry. One of my favorite verses is John 15:5  "I am the vine, you are the branches. He who abides in Me, and I in him, bears much fruit; for without Me you can do nothing."
When and only when we stay close to Jesus and His word, we bear fruit in ministry and in our personal lives. That's what I want – fruit (lives changed, Jesus's character and love revealed) that will last.
My focus over the next month in Worship Dance Ministries is going to be teaching on prayer and on praying.
I think it's an incredible privilege to be able to secure help from the God of the whole universe and even greater honor and responsibility to speak His will into being in the lives of others through prayer. God has given us access to all the riches of His power and authority through prayer in Jesus' name. I love that.
I pray for you in a general way, if you have subscribed to Worship Dance Ministries. If you would like prayer for something specific, please let me know.
If you pray for me this week, please pray for God's Spirit to work in a special way among the children to whom I'm teaching worship dance right now.