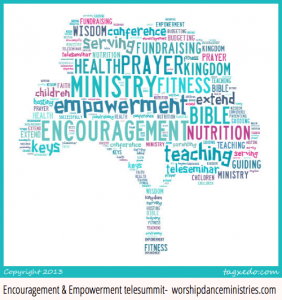 Next week I have the privilege of being a speaker in a tele summit with six gifted and anointed women, and I would love for you to be there. Think of it as a women's retreat on the phone. No, you don't get the weekend away from all your responsibilities at home, but you also don't have to travel or arrange for your family while you are gone. This is complementary, no cost to you at all.
I'll be teaching on prayer, the key to advancing God's kingdom when you serve. You'll also also receive powerful biblical teaching, encouragement, practical wisdom for staying in shape, and much more. To hear about all the speakers, you can listen to this 4 minute audio to get the whole scoop and to register. audio and registration
The summit will take place Monday, Tuesday, and Wednesday, October 28, 29, and 30, from 7:00-9:00 PM EST (4:00-7:00 for those of us on the west coast) HOWEVER, it will be recorded, so even if you can't make a single live session, I encourage you to register. You'll then be able to download the audio files, but them on your ipod, and receive encouragement and equipping while you run, while you take your morning/evening walk, or while you are driving. Of course, if you can make it live, do it —  you get the interaction, the give aways or special offers (I love those).
So you know, my teaching portion will be from 8:00-8:30 PM (5:00-5:30 PST).
Don't miss this, I would love to have you there and I know you will be encouraged and equipped. Please feel free to pass it on to any friends whom you think would be interested.