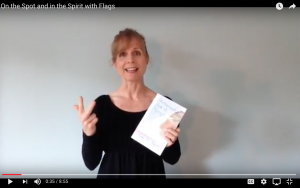 What is the point of using flags or banners in worship?
Does the bible say anything about worshiping with flags?
Are flags a distraction, drawing people's attention to the dancer when they should be worshiping?
Have you asked or been asked any of these questions? If so, read on to learn how flags were used in scripture and four important ways you can use them in spiritual warfare and ministry in worship.
In Processionals, Props and Pageantry, Pastor Lynn Hayden talks about the scriptural significance of banners. Scripture uses the words, banner, ensign, flag and standard. All of these are used in reference to warfare and, you will see, are relevant to our worship. Watch this 9-minute video to learn how.
Thanks so much for joining me today. Please join the discussion.
Why do you use flags or banners in worship?
What you have seen the Lord do when you have worshiped with flags?
Did this video raise any questions for you?
I'd love to hear from you.