When choreographing, should a dance leader look to hear team for inspiration and confirmation about choreography?
Or, does seeking the opinions of others muddy a leader's connection with God and what He specifically wants to say through her dance?
Does God primarily reveal His Word for the dance through the anointed, appointed leader?
Or, is it important to listen to and gain ideas from a group of Spirit-filled dancers, so that we can more fully understand what God is trying to say?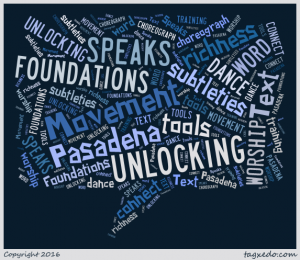 At the Unlocking Movement that Speaks prophetic movement workshop this past Saturday in Pasadena, these questions simmered among us and left me with some questions for the Lord, "How do you want this done, Lord? How do you speak? How do you want me to best listen?"
At the heart of the discussion were really two paradigms for choreography: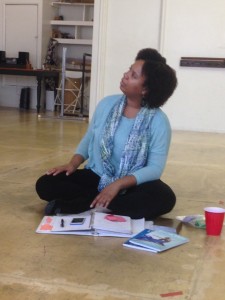 Marlita Hill, my friend and partner who led this workshop, presented this paradigm: God has an assignment specifically for us when we go before the people of God to dance. He has something to say and a way to say it, and the choreographer's job is to listen to Him, at every stage, for His directions. She emphasized that we do this listening as we converse with the Lord: "Lord, what did you mean when you wrote this in the Psalm or inspired the song writer to use this word?" "Lord, how do you want me to demonstrate this word, phrase, message?" "Lord, I'm thinking this. Is this what you mean?" She affirmed that the Lord will use our unique way of expressing His message. Nonetheless, He has something He wants communicated, a finished work for which I am to receive the instructions and then to assemble.
We may gain ideas and inspiration from others; however, those are always to be subject to the conversation we have with Him. We go to Him and say, "Is this what you meant?" or "Should I say it this way?" We are to be cautious not to let our horizontal conversations with others muddy or replace our vertical communication with Him. We must study the context in which a word is used to better understand the feelings and intent of the One who inspired it be used. All this is to bring a message from the Lord to the people. She made this analogy: If Marlita asks me to deliver a message for her,  I don't gather a group of friends to ask them to interpret the message. I don't say, "What do you think Marlita meant to say by this?" Instead, I listen carefully to what she says and take that message to the person for whom it was intended.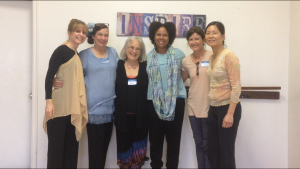 Participants pushed back on this, pointing out how rich our creativity is when we receive ideas from each other. They said that we better know how to express what God is saying as we collaborate in community to choreograph. One person described a process called, "The community of truth" in which you place a truth out for all to examine and then each person shares what they understand it to mean. In this process, the group collectively gains insight into the depth of the meaning. They emphasized that each individual understands a part of what God is saying and that, together, we can better determine the whole of it. If we look at a scripture or song together and listen to each other, we will express the Lord's heart and mind more fully.
At the core of the wrestling we did was the question, "How does God speak?" Does He actually speak unmistakably to individuals as common practice? Or, to know His will fully do we need to listen in community? Does He primarily reveal His will (for our dance, in this case) through a group of voices or by instructing His chosen leader? If we are to find an answer that includes both, what guideposts let us know where to put our weight? What is the example that scripture sets for us?
I've been asking the Lord these questions as I've prayed and read the scriptures this week. And I'm asking you. I suppose, in this process, I'm revealing my natural approach to seeking His will. However, I'm not so interested in what comes naturally to me as what He wants. And I'd like to know what you do and/or what you think. When you share, please share why you do it this way. What scripture or theology has informed your opinion or practice?
To see a video recap of this workshop or to register for our next workshop on April 2, Unlocking Movement for Intercession, click here.