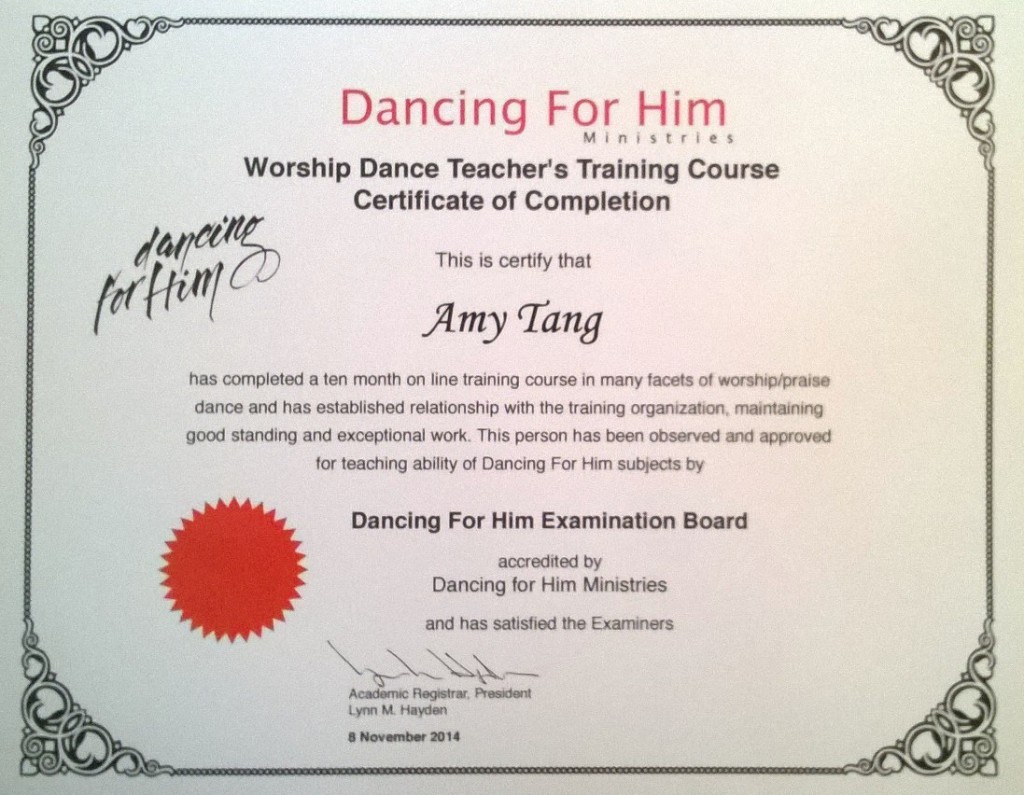 Today I'm celebrating having graduated from Dancing for Him's Worship Dance Teacher's Training Course.
For years I led others in worship dance, choreographed praise dance presentations, and eventually taught worship dance in a studio. For most of that time, I was self taught, or really Holy Spirit taught.
About 3 years ago, I came across Dancing for Him and read about their two year training course. My heart leapt. I wanted to take it.
As a dance teacher, I wanted a certificate that said that I was qualified to teach what I was teaching. And I wanted the confidence that comes from systematically studying dance and dance ministry.
I prayed about it for 2 years before God opened the door financially and in my schedule to enroll in the class.
It's been an incredible year. I have learned so much in terms of technique, dance and the bible, and dance ministry leadership. Read on to find out what I learned and watch a 4 minute video about the course.
I taught a dance workshop two weeks ago and had a toolbox full of activities to lead worshipers in that I had not known a year ago. I could have taught all day.
I'm teaching a 6-week worship dance class to high school students right now. The class is 45 minutes. I have so much that I want to teach these students, that I could extend this class to the whole year.
I share this with you for two reasons:
1. Just to share the joy of it. If you've been following me this year, you have seen some of the many training videos I've created as part of the course. I want to share with you the joy of completion.
2. To invite you to consider taking Pastor Lynn's course. (I don't benefit personally if you sign up.)
Below is a 4 minute testimonial I created letting you know what I gained from the course and what you could expect to learn and do, should you register. Take a few minutes to watch.
The best discussions happen in the comments section. Take a few minutes to answer one of these questions:
How has getting training has helped you gain confidence in ministry?
What hinders you from getting the training you want/need?
If you've taken the Dancing for Him course, let me know how it has impacted you.