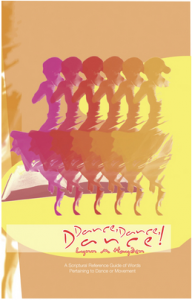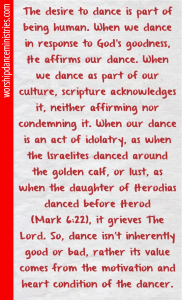 What does God think of dance? Does it please Him or offend Him? I read on a blog today that, "dance is a great sin and a very horrible vice because it degrades the common morality and degrades traditional Christian values." Wow.
I've been dancing as worship for many years now and studying have studied what the bible says about it. I know He was pleased when David danced and displeased when Micah judged him for it. I know that Miriam, the first prophetess, danced after the Israelites crossed the Red Sea, so I'm confident that dance has a place in the Lord's heart and will. But I studied, Dance, Dance, Dance! this week, by Lynn Hayden of Dancing for Him and felt like the Lord opened my understanding about dance.
Dance, Dance, Dance! is a great resource for the dancer who wants to know more about dance and movement in the bible, who wants to go beyond the questions, "Is it okay?" to asking, "When and how should we use it? and "What difference can dance make in the Kingdom of God."
In reading the first section of the book, what struck me was how much a part of Hebrew culture that dance is. The Israelites danced in response to victory in battle, to being restored, and to express joy. They danced to find a spouse and to celebrate a marriage. Dancing was part of life, and often was a community activity. Sometimes, but not always, it was an act of worship. In the cases of David and Miriam, the dance was an expression of praise and the dancers exulted in the presence of God. Other times, dance was more of a community activity, and sometimes it was  an act of sin: The daughters of Shiloh came out dancing to attract husbands, and the Israelites danced before the golden calf. So, this says to me that the desire to dance is part of being human. When we dance in response to God's goodness, He affirms our dance. When we dance as part of our culture, scripture acknowledges it, not necessarily affirming nor condemning it. When our dance is an act of idolatry, as when the Israelites danced around the golden calf, or lust, as when the daughter of Herodias danced before Herod (Mark  6:22), it grieves The Lord. So, what I got from that is that dance, in itself, isn't good or bad, rather its value comes from the motivation and heart condition of the dancer.
It was the words that connote movement that moved me the most in the book. Dance, Dance, Dance! lists Hebrew and Greek words, their English translation, and then the definition of the words. I was moved to learn the power that is released when we move in the ways scriptures describes. Spinning can be an act of intercession (chul, p. 37) or can be like a battering ram against the enemy (karar, p. 65). Jumping and shaking can shake off bondage (nathar, p. 73). Waving hands or streamers can be a perfume of fire that drives out the enemy (tnuwphah, p. 91). The Lord compasses about us. He surrounds us with His mercy and protection (cabab, Psalm 32:10). Through movement we can break of chains that the enemy has placed on people (p. 129). I'm an intercessor. I think one of my primary callings is intercessory prayer. This book created many strong links for me between movement and intercession, gave me a language for intercessory movement, and increased my movement vocabulary for prayer. I have always loved using expressive sign on my dances because of the clear meaning that the movements communicate. Dance, Dance, Dance! showed me how other dance movements like spinning, walking, waving arms and leaping can be not only beautiful but full of meaning and powerful and effective to bring healing and deliverance.
If you are leading others in dance, you need this book. It will equip you to teach others what the bible says about dance and movement and will teach you to choreograph with greater meaning and power. Also, consider purchasing the Dance, Dance, Dance! DVD, for sale in my store.
Price: $16.00