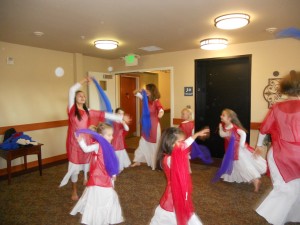 Around the same time that I taught my first worship dance class in the community, Jocelyn Richard began coaching me on dance ministry. She asked me what I wanted her to help me to do. I shared my top two needs–to grow in technique and to raise funds for garments and for my own training. When I shared about the home school worship dance class I was teaching, she suggested I charge for the class as a way to fund my dance ministry. I resisted at first. Sure, I had eleven students, but that was because my class was free, I assumed. If I charged, I doubted anyone would come. I didn't have a strong technical background either, so could I charge people to take a dance class from me? She told me to teach them what I do know, not what I don't know. I knew how to use simple movements and sign language to praise Jesus. I could teach them that.
So, I took the plunge and told the parents that I felt called to dance ministry, that I needed funds to continue my own training and to purchase garments, and that the money I earned would go back into this dance ministry. I offered the class at a rate of about half of what the local dance studio charges for their dance classes. Seventeen students register for the next session of worship dance class! I have continued to offer this class over the past two years. It has been a complete joy and delight to me.  It has brought blessings I didn't expect.
Next post: Seven Benefits of Teaching Worship Dance to Children Outside Your Church.