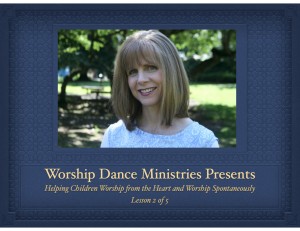 This is the second in a five part series on how to help children who love to dance to worship when they dance.
In this lesson, I'm going to answer these questions:
How do you equip children to dance spontaneously in worship?
How do you help them get beyond their self consciousness to truly worship?
Today I'm going to share three activities you can use to help children to worship from the heart and comfortably dance spontaneously in worship.
Again, while I'm talking specifically about children because these activities work so well with children, they will also be helpful with adults and teens. With adults and teens, however, I'll wait to use these activities until we've had several weeks or sessions together. I find that both teens and adults are more self conscious, and so it takes them longer to feel comfortable trying spontaneous dance activities.
Watch this 6 minute video and use these activities during your children's praise class or your dance ministry team rehearsal.
I'd love to hear from you. Please take time to share in the comments.
Was this video helpful to you?
If you have other favorite activities to help children worship from the heart and comfortably dance spontaneously, please share them.
Homework
• Spend 10 minutes/day for the next week worshiping spontaneously on your own. Write about how it affected your day.
• Optional (if you are currently leading a team or teaching a class): Incorporate 5-10 minutes of free worship at the beginning of your praise dance rehearsal for the next 2-3 rehearsals. Ask the children to share how they liked it and if/how they sensed the Lord moving. Record their worship on video and upload it to the private Facebook page.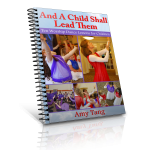 For those of you who don't yet have my children's worship dance curriculum, I encourage you to check out my worship dance curriculum, "And a Child Shall Lead Them – Ten Worship Dance Lessons for Children" It has ten scripted lessons for you with clear lesson objectives and scriptures and suggested songs for each lesson. It will equip you to equip the children in your life to begin worshiping through dance.

Thank you for allowing me to be part of your life and ministry.