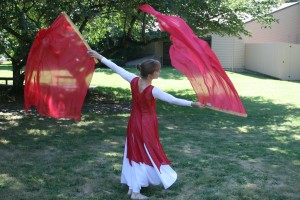 Several years ago a dance ministry leader encouraged me to raise my standards for dance garments, to seek to dress beautifully for God's glory. My biggest objection was financial. I did not have a budget for a new wardrobe of worship garments.
She encouraged me to seek a seamstress for my team, so I started praying about that. I approached people whom I knew sewed and asked them to consider sewing for the team. Though both were willing, neither was enthusiastic.
Then, one day in worship team practice, a woman new to the team mentioned that she sewed and would love to create tunics for the team. She had a passion for worship dance and a desire to use her talent for sewing to bless the ministry.
I was moved by God's answer to my prayer, and it confirmed that He was blessing the dance ministry He was calling me to. With this friend, I found several patterns that we used to create dance garments:
For the team, she used a simple tunic pattern that she adapted for each team member. She also used this pattern for the children, using it as a model and creating a simple pattern herself. (Pictured below on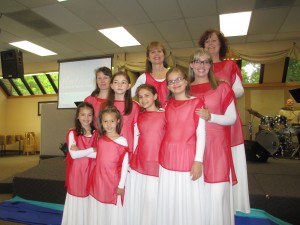 the team.)
She created more intricate overlays for my solos, adapting costume overlays. My favorite came from a Medieval gown pattern. We adapted it in several ways, raising the neckline, shortened the length, so that I wouldn't step on it, and omitting the sleeves. In addition, I had her leave the bottom half of the seams open so that the dress had flaps, which were very effective and made the dress easier to dance in. (Pictured top left.)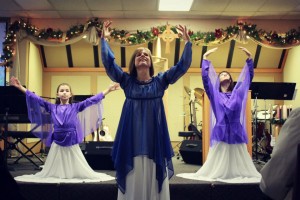 The other pattern we used for an overlay was also a costume pattern. We also raised the neckline on this pattern.  (See blue and gold overlays.)
Lastly, I found this pattern online for circles skirts: You don't even need to purchase a pattern, but can simply use the instructions to create the skirt.
Truly, having a skilled seamstress who wants to use her gifts to bless the dance ministry is a gift from God. All of these patterns have been wonderful but also needed to be tweaked to be appropriate for worship dance.