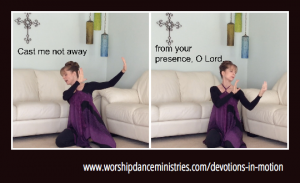 I'm soooo close to releasing the Devotions in Motion videos. It always amazes me how looong the technical part of producing a product and editing it takes. But there is a Proverb I love that says, "A longing fulfilled is sweet to the soul." I've been longing to make these available for over a year now, and my hope is that it will not only be sweet to my soul, but beneficial to many souls, as they use these in their morning devotions or teach them to their praise dance team.
Devotions in Motion will be released as a video download with 5 short, simple, and powerfully expressive devotional dances using the acronym for prayer, ABIDE. You can learn more by clicking here.
Would you pray for me in this final stretch? The work left at this time is technical, so I would appreciate grace with technology. I would also appreciate prayer that God would lead me to those who would benefit most from these and that they would be a blessing to others.
I also have it on my heart to schedule a local dance workshop here in Pasadena in the next 5-6 weeks and to offer a summer dance class as well. I'd so appreciate prayer for these things.
Please let me know in the comments section how I can pray for you.