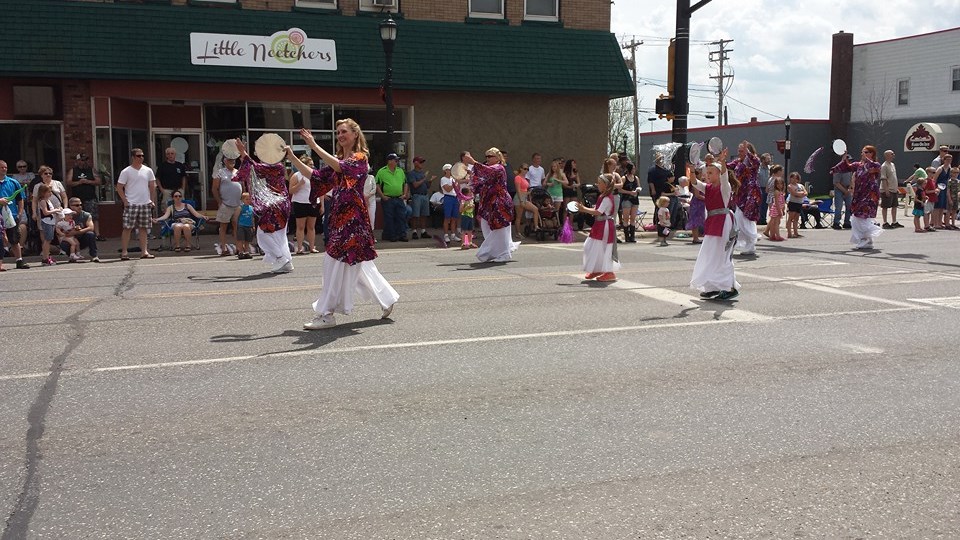 I sense that the Lord is calling dancers out of the four walls of the church and into the cities. At this critical time in history, when there is so much turmoil, confusion, and change, we have an opportunity to be part of the blessing our cities and ushering in God's presence. Where His presence is, every good thing follows.
A powerful way to let God use your in your city is to dance in their parades, to get out in the streets and bring a dance of joy, healing, and hope.
My friend and fellow student in the Dancing for Him Dance Ministry school, Bobbi Muncy, has danced in countless parades over the years and knows how to it. (You can see that in the pictures, right?)
I asked her to write for us, sharing how she finds opportunities to dance in parades, what she does to prepare, and what practical tips she can offer us to help us be ready to truly be a blessing.
Read on to hear from Bobbi:
"Everyone loves a Parade!
"A friend asked recently how she could do a parade with her team and bring glory to God. To say I was excited to share is an understatement! I have been doing parades for over 14 years.
"It all started with a call from a friend of a friend. They asked if we would be willing to be in the NE Minneapolis Parade. All we needed to do was bring flags and dance. We just showed up and the rest is history.
"Over the years the dancers, music, cities and and the costumes have changed. But we continue to bring glory to HIS name and take back the streets for Jesus. Our motto is "the praise goes forth first!" This is based on 2 Chronicles 20: 17-21. NKJV When King Jehosephat realized what he was up against, he called everyone to pray and fast. He then consulted his people and appointed the men to sing and give praise to the LORD. As they praised the LORD, He took care of their enemies! That is how we see parades.
"Scripture also says, "my word shall not return void" Isaiah 55:11 NKJV. The songs we use always bring a message not only to the people, but they fill the atmosphere!  Imagine Michael W. Smith's "Forever". The words of the song fill the atmosphere and chase the enemy away! We have also danced to "God's Not Dead! It is fun to see the look on some of the faces in the crowd.
"I usually start praying about what parades we should do starting in January. Many of them we do every year as they almost always ask us to come back. When I am thinking of new area, I check with the local Chamber of Commerce to get dates and applications. Be aware, some parades charge a fee to participate. I have paid up to $100 for a parade and it turned out to be nothing but a drunk fest. Really seek God first before committing.
"We do the parades with flags and tambourines. I use a minimum of 5 people doing tambourine. I love to include flags and banners when I can. Especially if I have kids or extra people. These can be choreographed if need be.  I have also had a dancer out front leading us.
"We use the same songs for every parade and usually for a few years. This way everyone becomes very proficient with the routine and can worship from the heart. We do about 3-5 parades a year in and around our community. We use the tambourine patterns from Shachah Ministries.
"Here are some practical tips:
•Keep it simple as this is a parade and you are moving most of the time.
•Keep your dress modest and be creative! Color is awesome!!
•Be sure to wear good shoes, sunscreen and sunglasses if needed.
•Stay hydrated. But note that there usually no bathrooms near the line ups, so be prepared.
•Line up is usually and hour prior to the parade. I highly suggest you go in as a team so no one gets lost.
•Pre test your sound system to make sure everything is working properly.
•Try to arrange someone to pick up the team at the end of the parade as everyone will be very tired.
"Remember to pray continually as "the enemy seeks to devour". This is frontline warfare. Pray for your team and for the people you will be passing on the streets. Pray protection over backlash as the warfare can be very intense!
"There is a lot more to what I have written here. Please feel free to email me with any questions you may have! I would love to hear from you!
"You are LOVED! John 3:16″
Take a minute to join the discussion by sharing in the comments:
Have you danced in a parade? If so, what tips would you add?
What did you gain from this post? Feel free to share it.