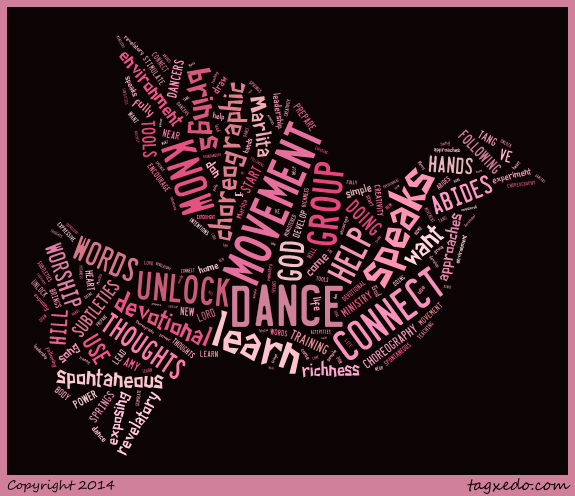 Do you want to dance in a way that speaks?
Do you want to speak to the Lord more intimately when you dance?
If a picture says a thousand words, a dance can say so much more. Sometimes we need help unlocking movement that truly speaks.
I'm full of joyful anticipation for the Worship in Motion praise dance workshop on January 31 in Pasadena, CA. If you live anywhere near me, I hope you will come. I'm so thankful to say the workshop is filling up quickly.
After spending Saturday afternoon with Marlita Hill, who will be teaching at the workshop, I felt like our vision and the gifts God has given us will truly come together to help dancers speak powerfully through their movement.
Marlita will be teaching on choreography, speaking to these questions/concerns:
How do I get started?
I only know a few movements, and I want to know more.
How can I get my dance to connect more deeply with the music?
Can I dance powerfully if I don't have much experience?
And I will be teaching on how to dance devotionally, so that before we speak for the Lord, we speak to Him, though movement. She'll be speaking to these concerns:
I want to deepen my connection with God when I dance.
I want to dance spontaneously with greater freedom and confidence.
So, if you resonate with any of these questions/concerns/desires, join us. Click this button to learn more and to register.