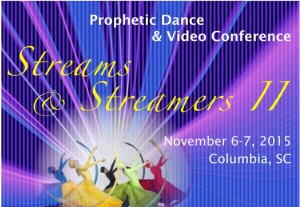 I'm really excited to be able to travel to South Carolina in November to attend Dancing for Him's Streams and Streamers Conference and I hope I can meet many of you there.
I've been to several of Lynn's conferences, and each time I go away full of the joy of worshiping through dance, having my toolbox full of new ideas, and having received ministry that frees my spirit.
Here's some questions to answer to determine whether this conference is right for you:
Would you love to learn many aspects and concepts of worship/expressive dance?
Would you love to learn some fresh movement and choreography ideas?
Would you love to be in a professional video production?
Would you love to learn many creative ideas and dance composition with streamers?
Would you love to receive ministry through and be activated in prophetic dance?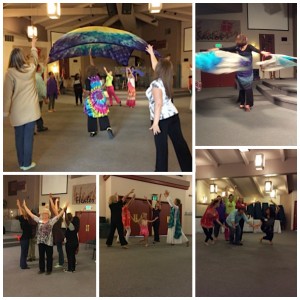 If you register in time (before September 15), you'll receive a tunic and streamer with your registration. It's also a graduation conference. In fact, I'm graduating from Level II of Lynn's online dance ministry school. I anticipate a strong anointing for ministry, not just for the graduates, but for all who attend.
Read Lynn Hayden's description of the conference here:
Be set free to dance before Him with full and total abandon while learning techniques to help your dances minister most effectively. Come experience the intoxicating, overpowering flowing streams of His presence and go home with not only fresh ideas, but changed!
In January, 2014, we had the original Streams and Streamers conference and it was amazing! Though we covered a HUGE amount of material and creative ideas, there is just so much more!! This time we are going to focus much more on the creative activations! You will go home with a plethora of new, fresh and creative ideas!!
If this sounds good to you, come join us.
I will not be teaching at this conference, nor am I hosting it. I'll be attending and receiving my Dance Ministry Leadership Certificate and my License from Dancing for Him. I would love to share this experience with you. I know you'll be blessed by Pastor Lynn's teaching and the fellowship with other worship dancers.
Again, the deadline to register and receive a tunic and streamer is September 15. Please let me know if you register. I really look forward to seeing you there.