Praise Offerings – Summer Dance Camp/Intensive for Youth – Recap
To learn see what God did among us and to see the video recap and read these blog posts.
Did you miss praise dance camp? Join us for one of these two upcoming classes/workshops:
I'll be teaching a modern dance for worship class at Ecclesia Classes Fall of 2019 on Tuesdays from 12:30-1:30, beginning August 20. This class is open to 4th-12th graders. If you have friends whom you think would enjoy it, please tell them about it. Here is the course description
Attend the worship dance workshop for children and adults on September 22 in Pasadena from 1:30-4:30. Email me to register
One part of camp that the girls really loved was learning to use expressive sign as prayer and praise. If you'd like to give them the chance to learn some more devotional dances, my downloadable videos, "Devotions in Motion" are a great tool for both kids and adults. You can learn about these here: Devotions in Motion

Dates: July 8-12 from 10-12 in Pasadena, CA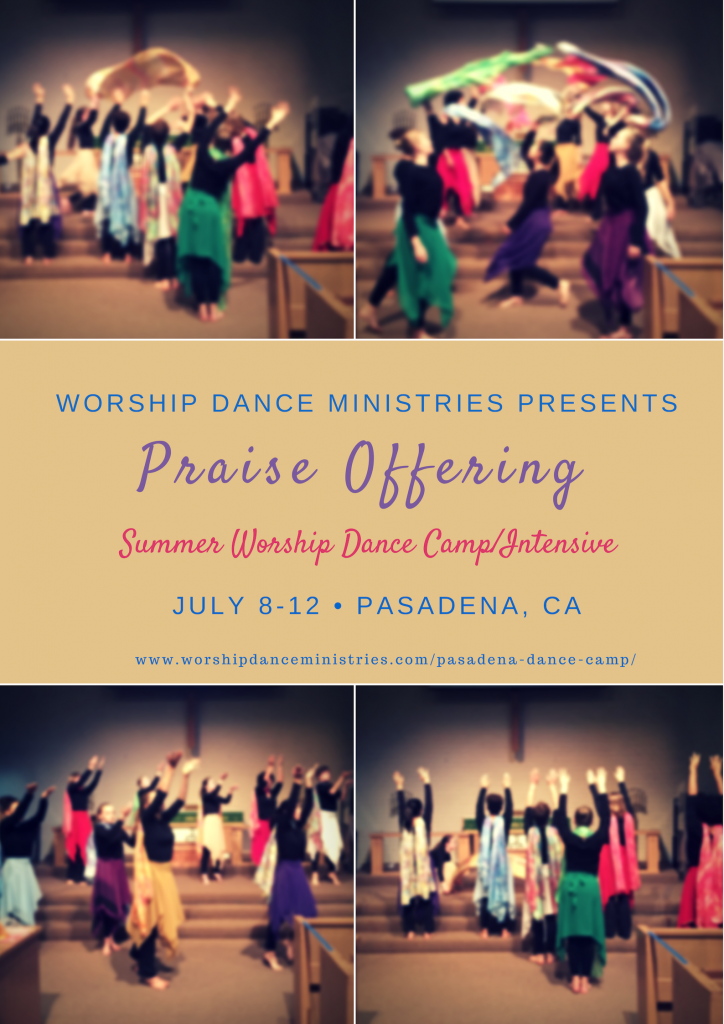 Offer your bodies as a living sacrifice, holy and pleasing to God. This is your true and proper worship.

Romans 12:1
In this week-long summer dance camp, participants will learn practice offering their hearts and bodies to Christ through dance.
Register your child and give them the opportunity to
enjoy the beauty of dance in a Christ-centered environment,
develop a heart for worship,
build skill in the art of modern dance,
develop an expressive movement vocabulary,
experience artistic worship and ministry,
learn a choreographed dance to share with parents on the last day
gain friendship,
get exercise, and
experience joy
Who: Youth ages 7 and up (if you have a younger child who is interested, contact me.)
What: Summer Dance Camp/Dance Intensive
Where: Prism Church, 61 N Hill Ave, Pasadena, CA


When: July 8-12 from 10 am – 12 pm
Why: To teach children to use the art of dance to worship Jesus
Cost: $90/student $75 – Early bird rate if registered by June 17
$85 registering online after June 17
Watch the videos below from the previous praise dance camp, and click here to read about what God did in the lives of children.
Testimonials
"I was touched by your devotion and by modeling to the kids how to pray and include God in their dancing. It is hard to find how to use the gift of dancing in a way that pleases God and that makes it an act of worship as opposed to a performance. You are Giving the kids tools to do that. I also loved the modesty in your choice of outfits. Your focus is on God in everything and that is inspiring!" – Parent of student in Praise Dance Class.
"I want to tell you how much my girls just LOVED your class!!!! They were beaming after class! I just loved how much you focused on their little hearts worshipping while moving their bodies."
"My daughter looked forward to Worship Dance every week and she has learned a lot about expressing herself in dancing through worship. You have such a gentle way in your approach to teaching the girls that I know draws them in to what you are doing and saying!"
Previous Praise Dance Camps
Celebrate God • Praise Dance Camp • June 18 – 22, 2018 • Pasadena, CA
Enjoy this 2 minute recap of Praise Dance Camp 2018 and join us next summer
Make His Praise Glorious Camp 2016
Praise Dance in Pasadena – 2015
Enjoy this 4 minute recap of Praise Dance Camp 2015