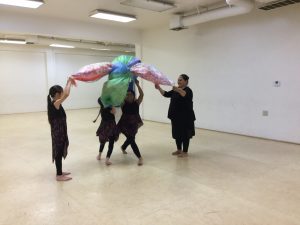 I turned fifty this month and one of the highlights of my birthday was beginning praise dance camp. I can't think of a more joyful way to celebrate through dance.
Our theme this year was Celebrate God. While this was the smallest praise dance camp I've ever had, it was, perhaps the richest. I was so moved by the beauty of the children's worship and creativity and watched the Lord touch their lives deeply.
Here is what one student shared about dance camp:
"It was very inspirational.  It inspired me to help my mom choreograph a new praise dance for Grandparents' Day in September. I learned new techniques and movements to put in our praise dance. I enjoyed making new friends. – Juliana
And here is what one mother shared:
"The girls had a wonderful time.  They enjoyed learning the choreography to the worship song 'Hosanna.'  They also enjoyed working with the veils.  It was a blessing to see them incorporate dance with the veils as part of their expression in worship."
The beauty of their grace-filled movements was enhanced by the fluidity of the veils.  It was a blessing for them to share this dance with those that were present on the last day.  In sharing it with others, His fragrance goes forth and blesses others."  – Tracy
Here is a video recap to give you a picture of our week together. I hope it also gives you some practical ideas for planning a praise dance camp or class.