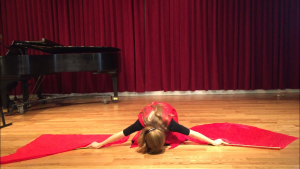 Have you ever agreed to dance and wished you hadn't?
Have you ever contemplated backing out of a ministry assignment the night before?
Do you ever question your call to dance in the middle of an assignment?
I do these things more often than I would like to admit. : Last Saturday evening, the night before I was to dance at my own church for Pentecost, I seriously contemplated backing out. In this post, I share what kept me from doing that and what I learned about the choreography process that may help you as well. I also (spoiler alert) include a video of the dance I did end up sharing.
Last Tuesday, my husband, who is also my pastor at Missio Community church, emailed me to ask if I had a dance I could share at Pentecost. I consider it a huge privilege to dance in the worship service, have choreographed dances a couple of songs that are appropriate for Pentecost Sunday, and sensed a "yes" in my spirit, (see my blog post entitled, "Doors Open When We Say Yes") and so I told him that I could and would love to dance.
Last week was super busy with preparations for the end of the year for the classes I teach. I spent Saturday morning in the studio prayerfully working on choreography.  I made decent progress. The rest of the day, I spent at my son's track meet and preparing meals for my family. On Saturday evening, I closed myself in my room to finish choreographing. I had parts of the dance, ideas for each part, but I didn't have the dance, and I didn't even love what I had. And I didn't even have the lyrics memorized.
One thing I had on my side was that the song I was choreographing to was a prayer for the infilling of the Spirit. I kept going back to the words and praying them.
I kept praying but felt discouraged and even fearful.
It was at this point that I considered backing out. They would understand, since I had only been asked to dance on Tuesday, right? It would be better not to dance than to get up before the congregation and share a dance that was not really finished and not anointed, right?
I live in Los Angeles County, the land of performing artists, and my husband and I are planting a church which is geared toward scientists, highly educated people. If I'm not secure in my calling in Christ, I fall prey to these kinds of thoughts:
With all these performing artists around, who are you to take the stage and think you can dance?  
If you get up there and flap your arms around, you are just going to look foolish.
But there were a couple of things that kept me from crying "Uncle"  at this point. Firstly, a friend who had been planning to miss church had told me she would attend church after all since I was dancing. Secondly, I kept thinking of my mentors, Jocelyn Richard and Pastor Lynn Hayden, and I knew they would tell me that I could do this. Thirdly, I had a sense that the Spirit might want to use dance to get beyond the intellect of these smart believers and touch their heart in a new way.
What turned things around for me was something unexpected. My husband crawled into bed at 9:30 looking discouraged and said, "I don't know what I'm going to preach tomorrow." (He had been at a conference all day and spent the evening preparing.)
When I heard him say that, sounding like me, I felt a surge of compassion and love for him that took my thoughts off myself. I knew he could bring a message from the Lord and responded, "You have a deep well of scripture in you and you have a passion for your topic. You will know what to say."
At that moment, my fear and discouragement lifted. I spent time praying for him and then, in my mind, walked through my lyrics. I saw the dance. I did this several times and then went to sleep, setting an early alarm for the morning.
In the morning, I went alone to our worship space and worked out in my body I had seen in my mind the night before. I was filled with joy and hope about it.

I was able to dance with joy and share my gift with our congregation. I and others sensed the presence of the Holy Spirit, and I got one of my favorite kinds of comments afterward. A gentleman told me, "I've never liked liturgical dance before, but when you danced, I got the connection between the words and the movements, and it spoke to me." One thing I believe I've been called to is to dance in a way that disarms those who are wary of liturgical dance. So, I was encouraged.
So, in a nutshell, what did I learn and how can it help you?
There is usually spiritual warfare in the choreography process. The enemy hides behind our excuses, disguises himself behind our insecurities, and keeps us focused on ourselves. So, make sure you have people praying for you when you are preparing to minister. (I had several friends and my mom praying for me that night.)
Choreography is a process. It may look messy in the middle, but as you continue to prayerfully work it out, what feels feeble and disjointed can become cohesive and powerful in the end.
Find ways to get your focus off of yourself. Pray for those before whom you will be dancing. Pray for others whom you know are ministering – your pastor, the worship leaders, the Sunday School teachers at your church. Anything you can do to get your eyes off of yourself and your weaknesses will free you to receive what the Lord has to give you.
Now, I'd love to hear from you.
Have you ever contemplated backing out of a ministry assignment? What did you decide and why?
What helps you when you get stuck with choreography?