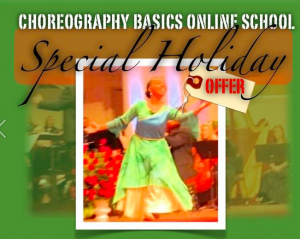 This is a super last minute announcement, but it's such a good deal that I wanted to post it, in case you are willing to act quickly to save on registration. Jocelyn Richard, who has taught me so much of what I know about worship dance, has a flash sale ending this evening.
She's offering Choreography Basics and the Dance of Healing online courses (self study) for the price of one course. Honestly, I can't think of any two courses more relevant at this time.
Firstly, if you are preparing to dance for the holidays, you'll get creative ideas for powerful choreography from the Choreography Basics Course. It was when I was choreographing a dance for Christmas five years ago that I found one of Jocelyn's choreography tutorials on Youtube. I watched her and said to myself, "I want to dance like her." Her expressive choreography and skill combined were powerful and moving. I am not kidding when I say that watching that video transformed my dance. I got ideas for choreography for that Christmas dance that were new to me, beautiful, and powerful. It marked a beginning of a journey for me of learning from Jocelyn and being led into greater skill, creativity, and impact in my dance
Secondly, in this season of pain and turmoil worldwide, we have an opportunity to be used by God to bring healing as we dance. The Dance of Healing will teach you why and how dance can be so powerful in this way.
I've taken both classes, and so can recommend them wholeheartedly. Just to make sure it's clear, both of these are online classes and are self study classes. This means you can access the material (audio and video) from any computer on which you have internet access. Once you register, you will have immediate access to all the course material and can study at your own pace.
Again, this is super time sensitive. If you register before 8:30 PST tonight (11:30 EST), the courses sell together for only $47. That is crazy low. After that, the sale continues, but the cost is $67 before it jumps up one last time to $97. If you are like me, you would rather pay earlier and pay less. But, if you need time to think about it, the price is still really good.
If you have any questions, please let me know. You can register here: