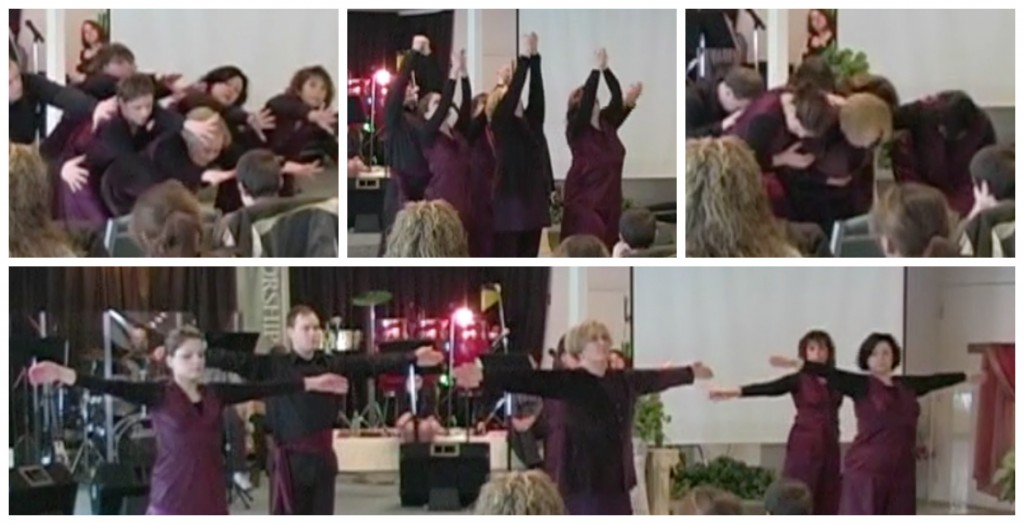 The Expressive Worship and Dance DVD presents and teaches a beautiful group dance that can be used for ministry and for personal devotion. You can take this dance and use it exactly as it is to create a ministry piece. Or you can take and adapt parts of it to fit your context. You can even use it as a solo or simply dance it in your own devotions, an invitation to the Lord to soften your heart and form His heart in you.
Not only do you learn a complete dance from this DVD, you get many ideas for how to take your own choreography and adapt it for a group, making it full of variety so you can minister.
Pastor Lynn shows how she takes a motif, which is illustrated in the chorus of the song and shown in the solo choreography, and creates many variations on this. In doing so, she creates a group dance that contains powerful variety. By adding group shapes, unison movement, by varying stage position and group formations, and by using cannon in the choreography, the original movements are adapted to add interest and impact to the dance. Here, I teach the solo part to the chorus:
These techniques give you ideas for how to take a song with simple lyrics that repeat and create a dance that is unified but not repetitive, one that is both cohesive and creative.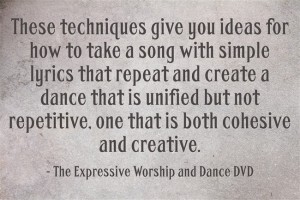 I loved how Pastor Lynn explains how and why she came up with the different modifications, giving you insight into her choreography process.
I look forward to using this dance in my devotions and using the group techniques to modify dances I have used in the past.
If you are looking for ideas for how to choreograph dynamic dance for your team, you'll gain great inspiration from this DVD. You can purchase it from my book/DVD store.