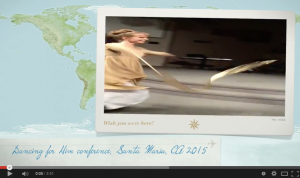 If you get asked to minister through with short notice, do you have a solo ready to go?
Do you need help choreographing a powerful and meaningful dance for Resurrection Sunday?
Do you find yourself going to the same familiar movements when choreographing?
I had the chance to dance this past weekend at the concert for the Dancing for Him Conference I attended in Santa Maria. I've been busy with several projects and did not feel like now was the time to choreograph a new dance, but I knew it would be a blessing to be able to participate in the conference. So, I agreed to dance and revisited a solo I choreographed last year.
This dance is a signature dance for me in that it's to a  song whose words resonate deeply with me by an artist I love. It's full of the expressive kinds of movements that I feel bring the words of a song to life. And I know it very well.
Do you have a dance like this, one you can pull out on short notice and dance with confidence and peace? If not, I encourage you to take the time to choreograph one. It will allow you to be ready in season and out of season to minister.
Below you can watch my dance. You may recognize this one, as I shared it last spring at a farewell ceremony at the church my family was leaving. Of course, I revisited the choreography last week. I prayed about it and danced to a verse that I didn't use the first time I danced to it. But the song was still so familiar to me, not just the words and the choreography, but the heart of the message.
When at this conference, I purchased a fabulous choreography DVD that I want to share with you: Worship Expressions and the Solo Dancer.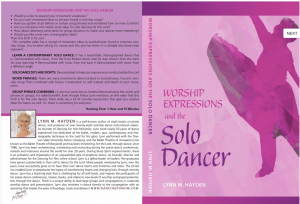 This DVD is like getting three DVD's in one. In the first part, Pastor Lynn teaches a solo dance to the song My Hope. This is a contemporary worship dance that ministers. She demonstrates the dance, facing forward. Then she teaches it, facing backwards, or our sakes. And then she walks us through it as she faces backwards, talking us through the choreography. This makes it easy to learn, although it still takes attention and practice.
In the second part, Pastor Lynn gives Do's and Don'ts for the dancer choreographing a solo, which are demonstrated by conference dancers.
After the Dos and Don'ts, there are a plethora of expressive movements to phrases that go with common expressions in worship songs. I loved that these were demonstrated in many ways: First, simply by individuals. Next, individuals embodied phrases while using techniques from dance composition to add interest and variety. After that, groups demonstrated worship expressions. Then, to make the expressions all the more powerful, groups combined many different expressions and group shapes. They were breathtaking.
I have all of Pastor Lynn's DVDs and I can honestly say this is one of the richest and most dense of all Pastor Lynn's DVD's, equipping both the solo dancer and the group choreographer with a multitude of ideas. 
Here's a short tutorial I created from the DVD:

So, if you want to build your movement vocabulary, be inspired with more ideas than you can imagine right now, and gain practical wisdom for choreographing a solo (by the way, there are powerful ideas for group choreography as well), I encourage you to purchase this DVD. It will be a blessing and will bear fruit in your dance.
You can purchase it here or click on the product description for more details.
Price: $26