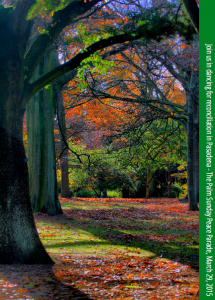 Many of you have prayed for the Lord to open doors for ministry for me in Pasadena, and so I want to share an answer to those prayers. A new friend, Jill Shook, who has a passion for Jesus and for social justice in the city, has asked me to join her in leading in dance and movement in the Palm Sunday Peace Parade in Pasadena on March 29.
I'm particularly drawn to this opportunity because it's a chance to bring dance and movement outside the four walls of the church and into the community and to extend the Kingdom of God in my city.  And, you are invited to join us.
Hear, in Jill's words, what we're doing and how you can be a part of it:
Join us, all wishing to participate using movement, dance and mime in a public worship of Jesus as the Prince of Peace and also honoring the healing Tree of Life described in Genesis and the Book of Revelation on March 29th, at 3pm as part of the Pasadena Palm Sunday Peace Parade. This will the 13th annual family fun Palm Sunday Peace Parade (where 50+ churches representing hundreds of people, including children who will lead the way taking turns riding a live donkey).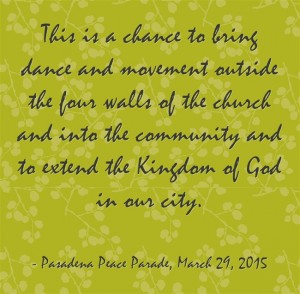 Rehearsal time: Friday, March 27th 6:00-8:30 pm (after some group biblical reflection, you will be participating in the creation of this action/dance movement to form a "tree of life", and rivers of life that will be performed along the parade route and at the end with a sacred time of reflection).
Rehearsal Location: 4 Esther St., Pasadena, CA 91103. This is a delightful and affordable small dance studio in NW Pasadena, a few blocks north of the 210 Freeway off of N. Fair Oaks.
Background information:
Parade History: The Palm Sunday Peace Parade was started by the local Mennonite Church in Pasadena after 9-11 to provide a different response than war. Many churches met at that time and said, war is not how Jesus would respond. Zechariah prophesized that Jesus would come into Jerusalem on a donkey and proclaim peace and alternatives to war and violence:
Rejoice, O people of Zion![d]
    Shout in triumph, O people of Jerusalem!
Look, your king is coming to you.
    He is righteous and victorious,[e]
yet he is humble, riding on a donkey—
    riding on a donkey's colt.
10 I will remove the battle chariots from Israel[f]
    and the warhorses from Jerusalem.
I will destroy all the weapons used in battle,
    and your king will bring peace to the nations.
His realm will stretch from sea to sea
    and from the Euphrates River[g] to the ends of the earth.[h]
Jesus began his ministry on the margins of society in the region of Galilee, and moved toward the heart of Jerusalem, to the seat of power, where he we crucified on a tree. The Pasadena Palm Sunday Peace Parade also begins on the margins of the city in N.W. Pasadena and moves into the city center. Today a number of US cities, including some in Australia, now have similar parades.
Where we walk:
The parade route begins at the Messiah Lutheran Church on the corner of Orange Grove and Oakland at 3pm. After a brief introduction by Bert Newton, founder of the parade and pastor of the local Mennonite Church, the donkeys carrying children lead the way as we go down Los Robles, and turn onto Colorado Blvd. to Paseo Colorado where we have a brief ceremony. This year our theme is "Restoring the Earth, Redeeming the City." Along the way, worship and praise dancers will use blue and green flags to show water and forests and will form a living tree along the parade route proclaim Jesus as the tree of life for the healing of the nations. Once our ceremony is finished at Paseo, for those parade goers who wish to continue, the parade will go north on Fair Oaks to the location where unarmed 19-year-old African American named Kendrick McDade was shot and killed by the Pasadena Police in 2012. Kendrick's mother will lead us. When we arrive African American pastors will guide us in time of silent confession, repentance and healing—all part of our theme of redemption of our city.  At this point, we will again form a living tree, proclaiming how even in death God can bring life and healing.
 
Further biblical reflection on tree theme:
The biblical story started in a garden with the tree of life. Trees are the lungs of the world, providing us the oxygen we breathe. Trees also help hold together the top six inches of soil that feeds the world, helping to prevent the top soil from being eroded to the ocean. The trees of Lebanon, which once thrived throughout the Middle East, now form a very small, highly protect grove. These highly prized trees appear throughout the Old Testament, thriving in time of peace and destroyed in time of war, when empires cut them to build palaces, ships, chariots and temples.  The trees themselves cry out in praise when they are not cut down: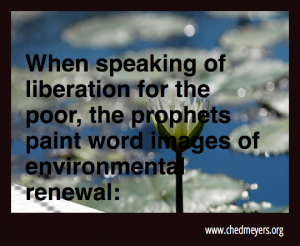 The whole earth is at rest and quiet; they break forth into singing. The cypresses exult over you, the cedars of Lebanon, saying, "Since you were laid low, no one comes to cut us down!" (Is 14:3-8)
At the time of Christ, one way to make a public display of those who resist the tyrannical movements was crucifixion—a cruel deal by hanging on a tree–trees meant for life. Jesus was raised from the dead and proclaimed the kingdom of God, a kingdom where death and sorrow are turned to life and joy. Where the very rocks cry out in praise and trees thrive for in an urban city for the healing of the nations.
You are invited to join this movement by breaking out in moments of dance with us on the parade route, and forming trees of life. Mark your calendar now for the rehearsal Friday evening March 27th and the parade beginning at 3pm on Palm Sunday, March 29th.
To confirm your participation contact: Jill Shook  or register here: