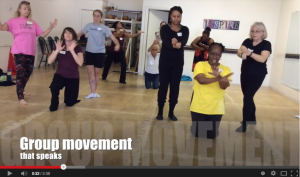 The Worship in Motion workshop this past Saturday was very powerful. It was an awesome privilege to teach with Marlita Hill.
It was also very moving to work with a group of women who came wanting to go deeper in choreography and worship and who came with hearts open to share and to learn.
The Lord showed Himself faithful to minister through the teaching and through the group activations.
I'll share quickly my favorite takeaways:
1. God knew what you have a don't have in terms of skill, experience, finances, (everything) when He called you, and it's enough. So, no more apologies!
2. The Word is Living. He speaks. He has a tone. He has a message that He wants to communicate through our dance. So, we must get in touch with Him, we must take time to hear from Him if we are to speak for Him. There is no short changing this step.
3. The context (of scripture, of a song, of the people to whom and place at which you are ministering) must shape how you interpret the word. Pay attention to context. For example, love doesn't look the same in every context. So, if you are communicating about God's love, listen for the context in which He is extending it. His love is multidimensional, and so there are a multitude of different ways to embody it through dance.
4. We do not need to be perfect, just wholehearted. So, engage your whole heart and your whole body and trust Him to speak.
There was more, but I'll let the video recap speak now. Hope you see and hear Him in it.
Did God speak to you through this recap? I hope so. If so, please share how in the comments. It will encourage me and others.
Join us next time!