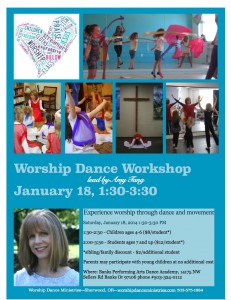 Recently I hosted a Saturday workshop for children entitled, Telling God's Stories Through Dance in Banks, Oregon. It was the first time I hosted a workshop just for children and it was a complete joy. It came about because a family, whose children have taken my classes and who live about 45 minutes away from where I teach and live, asked me to teach a class in their area. After really counting the cost of doing that, I decided I could not teach a weekly class that far away from home right now, so I countered with an offer to teach a 2-hour workshop out their way on a Saturday. So the idea for a children's workshop was conceived. Ten children registered, three of whom I had not had in classes before. I share these highlights with you in case you plan to host a children's workshop or come to one soon.
The highlights were:
1. Having an extended time to teach children: Each week when I plan dance class, I have so many activities I want to share with the children and I have to narrow that down to fit an hour class. It was so fun to be able to teach several new concepts in one day, and the children loved it too. With our theme being "Telling God's Stories through Dance," I taught on using sign language and gestures, color, streamers, scarves, and billow cloths. In addition, I taught on leading others using simple movements and gave the children the chance to lead in small groups. Finally, we shared a dance we shared recently in church and taught the children an portion of that.
2. Seeing how valuable my team is in ministry: About a week before the workshop, the Lord tapped me on the shoulder and suggested bringing my team from church. Having them was awesome. It was a huge help to have one team member handle registration and sign in at the door, one available to help hand out props and direct children, and another take video (I wish I had had her take more. Once the workshop really got underway, I was caught up in the activities and didn't think about recording them. Next time I would plan out ahead of time all that I wanted recorded and ask a team member to capture it.) In addition, it was wonderful to have three other dancers available to lead short portions of movement, demonstrate how to use billow cloths, and encourage other dancers.
3. Giving my team a ministry opportunity: Lucie Poirier from Dancing for the Endtime Harvest says that we increase our anointing for dance by dancing. In ministering we grow in skill and anointing. The next day we ministered at a nursing home and we danced with greater unity as a result of serving together the previous day.
4. Providing a chance to get live video footage of my ministry: At least it gave me a chance to experiment. I'm working on two new products that will use footage from live classes. While I may not use footage from this class, it gave me a chance to experiment with catching teaching in video to make available to others.
5. It increased my reach: allowing me to minister to families who live too far away to take regular classes from me, to plant seeds for worship dance in the hearts of new children. 
Watch this highlights video, and let me know what you're doing or would like to do with children. I'd love to hear from you.