To learn more about this teleseminar and see a video description, click here.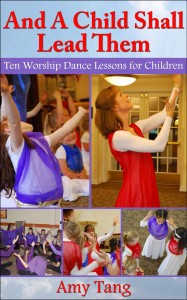 I recently put my favorite and most impactful worship dance lessons in writing to share with others – parents, dance teachers, and those who serve in Children's Ministry – to use to teach children how to dance as worship. This book is written as Ten ready-to-use, scripted lesson plans with pictures of dance postures and movements. So, you can use it to give children an biblical understanding or dance and to get them moving in worship.
I will be co-teaching a tele seminar based on this e-book with my friend and mentor, Jocelyn Richard. You will love Jocelyn and will go away with powerful biblical teaching and practical tools for raising up children who worship.  You will also get a copy of my e-book included with the class tuition as well as an audio copy of Jocelyn's teaching on The Worshipful Children's Ministry. The cost of these items alone totals more than the class tuition.

This class begins on Monday August 19 and will meet for two sessions. If the time doesn't work for you, you can still participate, as all the sessions will be recorded. This is a gold mine of information, and I hope you will join us.
To register, click here.