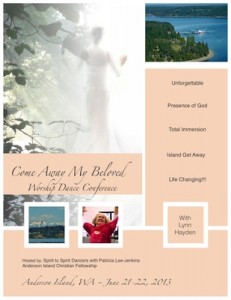 I am so excited to attend this dance conference. Dancing for Him is an internationally recognized dance ministry that has helped me grow as a dancer and a dance ministry leader. I have been watching for one of their conferences to be held on the west coast for over a year. This is an incredible opportunity to both be equipped as a worship dancer and to enjoy a spiritual retreat. Here's how DFH describes this conference:
Would you love to learn many aspects and concepts of worship/expressive dance?

Would you love to learn some fresh movement and choreography ideas?

Would you love to receive ministry through and be activated in prophetic dance?

Then this conference is for you!

Located in the Pacific North West, nestled between two major cities in Washington state (Seattle and Olympia), this conference is going to be very special. The Lord is calling us onto Anderson Island, where we couldn't ask for a more beautiful setting to get away for an intimate time, worshiping our God. We'll get to take a ferry onto the island and will be staying in guest homes and bed and breakfasts, so it won't be like your typical hotel stay. Come away for an unforgettable experience with your Beloved.
I would love to travel to Anderson Island with others from the Portland area, to share the cost of transportation and lodging, and to have fellowship with dancers from this area. If this is something you are interested in, please contact me. amytang503@gmail.com
For more information about the conference, click here: