Worship in Motion – Children's Praise Dance 
Thursdays in pasadena at Ecclesia Classes
Session 1 begins August 31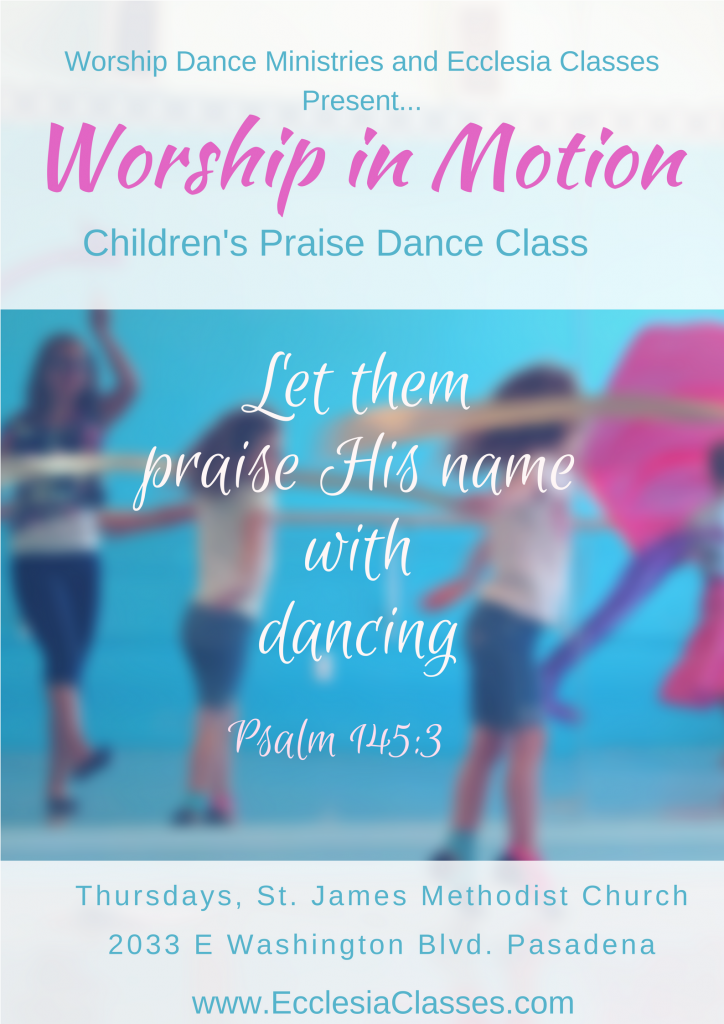 I am so excited to be teaching worship dance at Ecclesia classes. I have been part of the Ecclesia community of homeschoolers for the past three years. I love this community of Christ=centered learners.
This class will focus on the heart of worship – devotion to Jesus. In this class, children will
learn how much the Lord delights in their worship
learn how powerful a child's worship can be to advance the Kingdom of God
learn to use dance and movement to worship Jesus and to minister to others
learn to use beginner level ballet and modern dance
learn expressive sign language as a foundation for this worship vocabulary
experiment with props and pageantry, creative group movement, and choreography basics
gain exercise, build friendships, and have fun in a Christ-centered environment
learn a choreographed dance to present at Ecclesia and to minister in the community
Registration for this class is through Ecclesia Classes. (Go to the Online Registration page under the Forms and Fees tab on the upper left hand side of the page.)
Cost: $125/semester *
First Semester: 12:40-1:20 (1st-2nd grade), 1:20-2:00 (TK-K)
Second Semester: 12:40-1:20 (3rd-5th grade)
*In order to participate in this class, all students must also be registered with Ecclesia classes. There is a $75/family/year registration fee to register with Ecclesia. Questions? Email me.