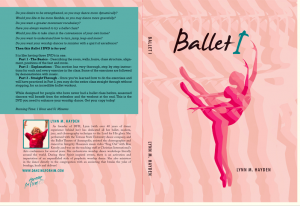 Price: $20
Ballet I – VIDEO DOWNLOAD Product Description:
THIS IS A DIGITAL PRODUCT
Do you desire to be strengthened, so you may dance more dynamically?

Would you like to be more flexible, so you may dance more gracefully?

Do you want a greater movement vocabulary?

Have you wanted to try a ballet class?

Would you like to take class in the convenience of your own home?

Do you want to understand how to turn, jump, leap and more?

Do you want your worship dances to minister with a spirit of excellence?

Then this Ballet I VIDEO is for you!
It is like having three videos in one.
Part 1 – The Basics – Describing the room, walls, barre, class structure, alignment, positions of the feet and more…
Part 2 – Explanations – This section has very thorough, step by step instructions for each and every exercise in the class. Some of the exercises are followed by demonstration with music.
Part 3 – Straight Through – Once you've learned how to do the exercises and will have practiced in Part 2, you may do the entire class straight through without stopping, for an incredible ballet workout.
While designed for people who have never had a ballet class before, seasoned dancers will benefit from the refresher and the workout at the end. 
Here is a brief clip:
This is the video you need to enhance your worship dance. Get your copy today! 
The music in this video is called "Ballet Magnificat – Music for ballet class set to timeless worship songs" by Marc Ridgeway. It may be found on Ballet Magnificat's website. 
Running Time: 1 Hour and 51 Minutes