Under the Shadow of His Wings – Using Veils in Prayer, Praise, and Modern Dance – Pasadena – June 3, 2018 – Pasadena, CA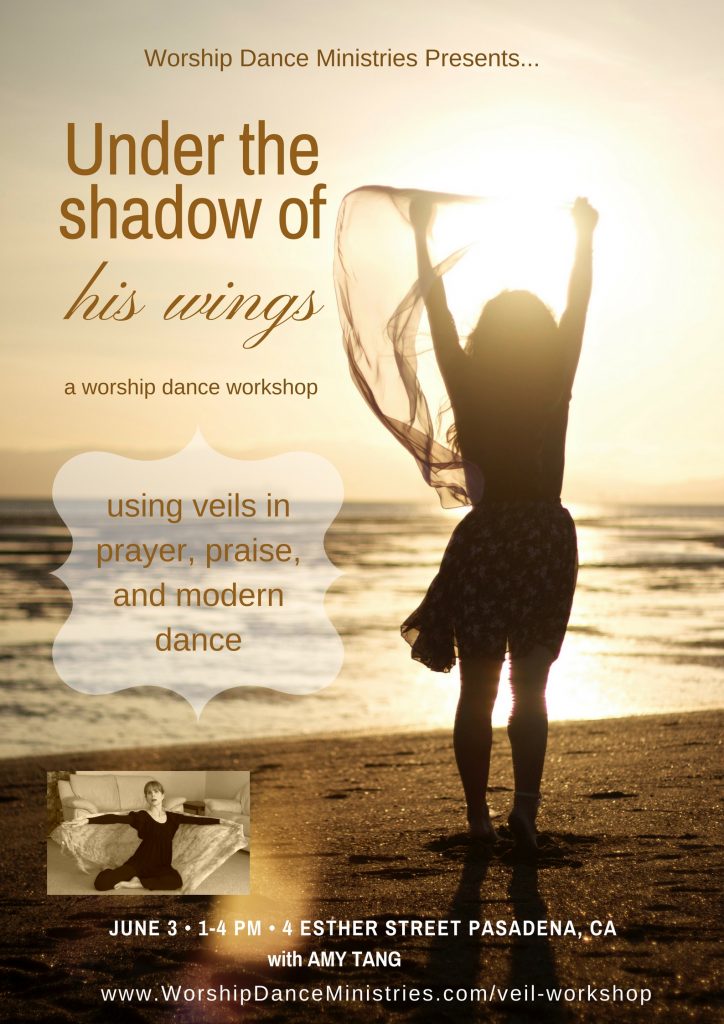 Under the Shadow of His Wings
June 3, 2018
1-4pm
Magnolia Dance Studio – 4 Esther Street, Pasadena
Cost:
Register online: $30 $25
Register at the door $35 $30

Come be refreshed as you worship. Spend time under the shadow of His wings, where transformation happens.
Veils add beauty, glory, drama, and effect to  modern dance. There is also something intimate about a veil, making them uniquely suited for prayer and devotion. They help tell a story and enable us to more effectively communicate emotion, whether in private prayer or presentation dances.
I enjoy dancing and praying with the my prophetic worship veil, which was custom made for me by All for His Glory Ministries. I love to toss it on my shoulders when I am doing my modern dance workout in the morning and to pick it up when praying and make the movements an act of prayer. I have packed it in my suitcase when traveling in order to pray for the people I've been visiting and even over their home. And as I've done this, I've developed a desire to share what I'm learning with other worshipers, and to learn with them how to incorporate this tool into their own prayer and praise
So, I invite you to join me for this unique worship dance workshop. You will gain understanding and technique to broaden and deepen your dance, you'll nourish your own soul as you study, and you will be blessed by the fellowship.

Previous Workshops:



Unlocking Movement that Speaks
with Marlita Hill
#1 Unlocking the Text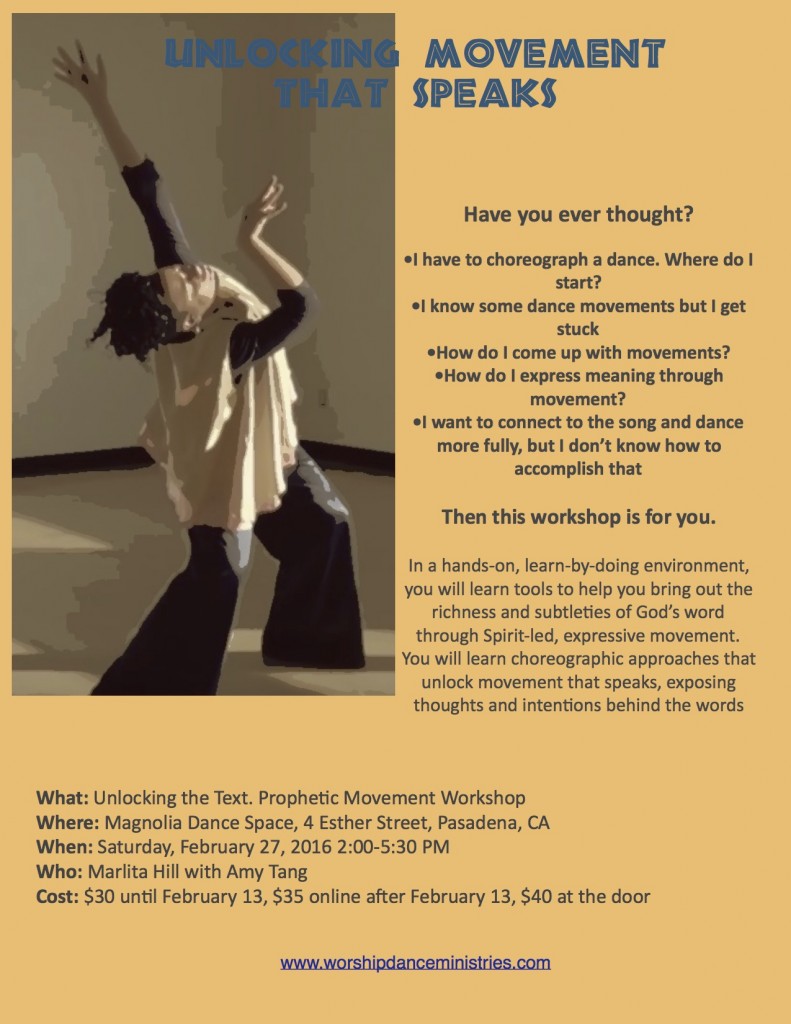 Led by Marlita Hill with Amy Tang
February 27, 2016
Unlocking the Text: In a hands-on, learn-by-doing environment, you will learn tools to help you bring out the richness and subtleties of God's word through Spirit-led, expressive movement. You will learn choreographic approaches that unlock movement that speaks, exposing thoughts and intentions behind the words being ministered.
This teaching is for you if you've ever thought the following:
•I have to choreograph a dance. Where do I start?
•I know some dance movements but I get stuck
•How do I come up with movements?
•How do I express meaning through movement?
•I want to connect to the song and dance more fully, but I don't know how to accomplish that
Recap of Workshop #1 Unlocking the Text
#2 Interceding through Movement – Dancing Your Prayers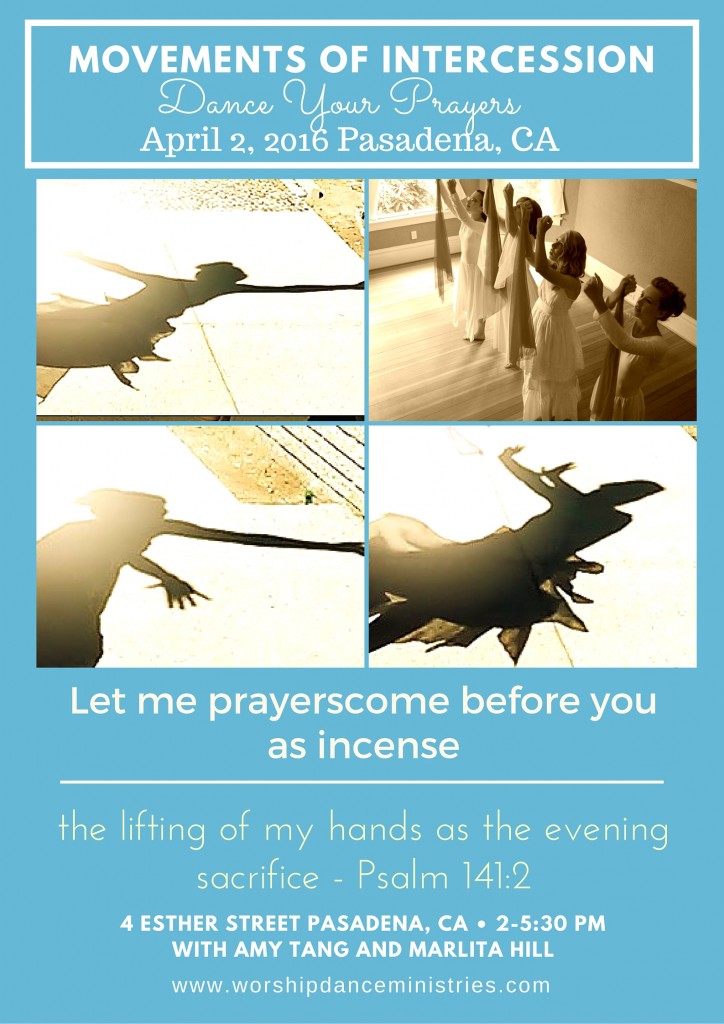 Led by Amy Tang with Marlita Hill


April 2, 2016
Interceding through Movement:
This teaching is for you, if you:
•Feel called to prayer and intercession
•Want to deepen your prayer life
•Want to build your movement vocabulary
•Need a breakthrough in your personal life
In this hands-on workshop, led by Amy Tang, we
•spent time enjoying the Lord through dance
•built a movement vocabulary for prayer and intercession
•gained tools to express the prayers in scripture through movement
•practiced hearing God's voice and translating what He says into movements that bring breakthrough
•learned to create movements that invite breakthrough
so that we can better pray more effectively for our loved ones, community, and world.
Recap of Workshop #2 Movements of Intercession – Dancing Your Prayers