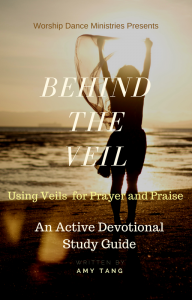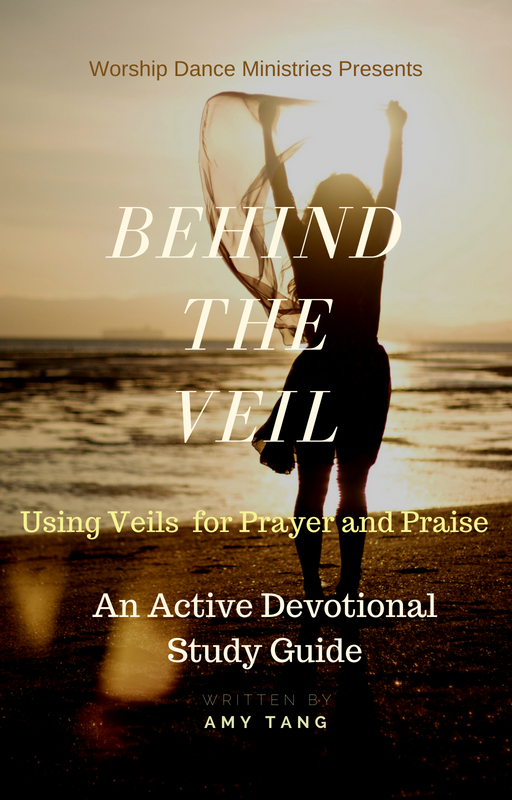 In our family, we frown on impulse buys. We try to make thoughtful, prayerful purchases so as not to squander our resources on things that won't actually have a lasting benefit. But last December, I made an impulse buy over which I continue to marvel at the impact.
I purchased a prophetic worship veil from a friend who was making and selling them for a limited time at a discount. Something in me just said, "Get that, now." I ordered one immediately. I like to think of it as a Holy Spirit inspired impulse buy.
The veil arrived in a beautiful bag with a personal note written on a scroll and with a name, "Precious One," written on the card.
I began been using the veil in my morning modern dance workout/prayer time. I would toss it over my shoulders or hold it loosely in one hand and move with it as I did the steps of my morning routine.  Other times, I would move out into spontaneous dance and prayer.
I found that moving and praying with the veil drew me into a place of intimacy and worship with the Lord that opened my heart in a new way. And I loved the beauty and emotion that the veil added to the modern dance movements I had been doing for years.
At the same time, I joined a study group led by a friend of mine in which she led us through active morning devotions. She assigned simple actions to take each morning in prayer in response to the scriptures we were studying. Through the movements she instructed us to do, I found myself hearing the Lord speak to me from the scriptures in a new way. Sometimes I would end up weeping. Other mornings, I entered into times of extended prayer. And other days, I rose up after just a few minutes of reflection and prayer, refreshed, entering my day with a completely new perspective on a situation that had been troubling me.
These active devotions served as guides for me, deeper into scripture, revealing to me into my own heart and helping me hear the Lord's voice more clearly. I couldn't wait for each new morning and each new assignment so I could encounter the Lord fresh for each day.
So, I wanted to share this with others, to help others really engage with the scriptures in a way that touched their minds, emotions, and spirit by engaging their bodies. I wanted others to hunger for their morning devotional time and to leave it having encountered and heard from the Lord.
I also wanted to help others learn to incorporate prophetic worship veils into their devotions, knowing from experience that the Lord uses them to draw us into intimacy with him.
On top of all that, I wanted to help others learn to use veils in modern dance, knowing that doing so would add beauty, emotion, and power to their choreographed dances.
So, I started a month long study group to which I invited other worshiper dancers. I called it an active study group because it was to include in-depth bible study but would be active, engaging not only their minds and spirits, but their bodies.  These  Over the course of a month, we together studied scriptures relating to veils and worship. The Lord gave me activations for each day. We did word studies, prayed together, and shared what the Lord was teaching us.  I created videos to explain how to add veils to modern dance movements. It was a powerful month of study and worship for each of us.
You can read here what the women in the group shared about this study:
Amy I am in a new dimension of worship. Your teaching is my first experience aside from the Holy Spirit. It is supernaturally purposeful in this season of my life. I have been learning a great deal of knowledge about my gifts as a worship leader. Thank you for your sacrifice and dedication. I am so excited about my growth! Amy before I purchased the veils I would use flags/banners only. Prior to me worshipping with a veil I had a vision dancing before the Lord with a gold veil. I am blessed from the teaching. I am practicing movements in my prayer time and it is incredible dancing with a veil. It draws such intimacy with the Lord. – Rhotocia

Every time I do the assigned activation, I can feel a deeper response inside my heart. Words come hard for me, a lot of times, and to be able to express what is in my heart in movement with veils has been a brand new experience. – Christine
This class has been truly a blessing! It has made me pause / Selah, as I use the veil during my prayer time, it takes into a place of intimacy, a place of feeling secure protected and loved by ABBA. – Fran
When the month ended, I knew that others would benefit from this active study guide.  I belived that this active study guide was part of the reason the Lord prompted me to purchase a veil that day in December. So, I put everything together in an Ebook in a format that is easy to use. The activities and suggestions for study are meant to be able to be done in as little as ten minutes, but have depth enough that you may linger with a truth or an exercise for longer, as you are led.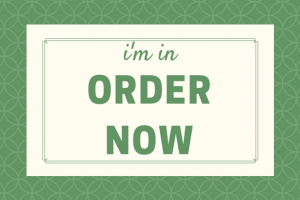 So, what will you gain from this study guide:
a plan for a morning date with the Lord that you will not want to miss
deeper intimacy with God as you nourish your soul
 a sharpened ability to hear and recognize the Lord's voice
tools for bible study that will make you look forward to reading the scriptures and give you confidence in your ability to understand them
ideas for expanding your choreographed dances
greater joy and freedom in dance that will spill over into all your daily activities
What will you find in the guide:
a thirty-day pattern for morning devotions that includes
twelve devotional activations
four in-depth bible study teaching with suggestions for your own study. You can listen to the audio teaching or download the transcript
five five-minute video tutorials on how to incorporate veils in your spontaneous dance as well as modern dance workouts
And if you purchase the study guide this month, you will receive these as a bonus:
Essential Worship Veil Resources Guide –This contains a list of my most trusted resources for training in using veils in dance
My song list–a list of songs that I have found are especially relevant and powerful for devotions or for presentations dances
Behind the Veil Journal – a printable journal to use to capture your reflections from your study
Three ten minute audio messages from Amy on using veils in devotions
Access to weekly prayer calls with Amy throughout the month of September. Here, you will have live access to me, may receive prayer, and will hear from others who are also on this journey with you.