Save the dates: June 18-22 Kids Praise Dance Camp in Pasadena
Watch here for details, coming soon…
Email me if you just can't wait for details. 🙂
Enjoy these highlights from previous Praise Dance Camps.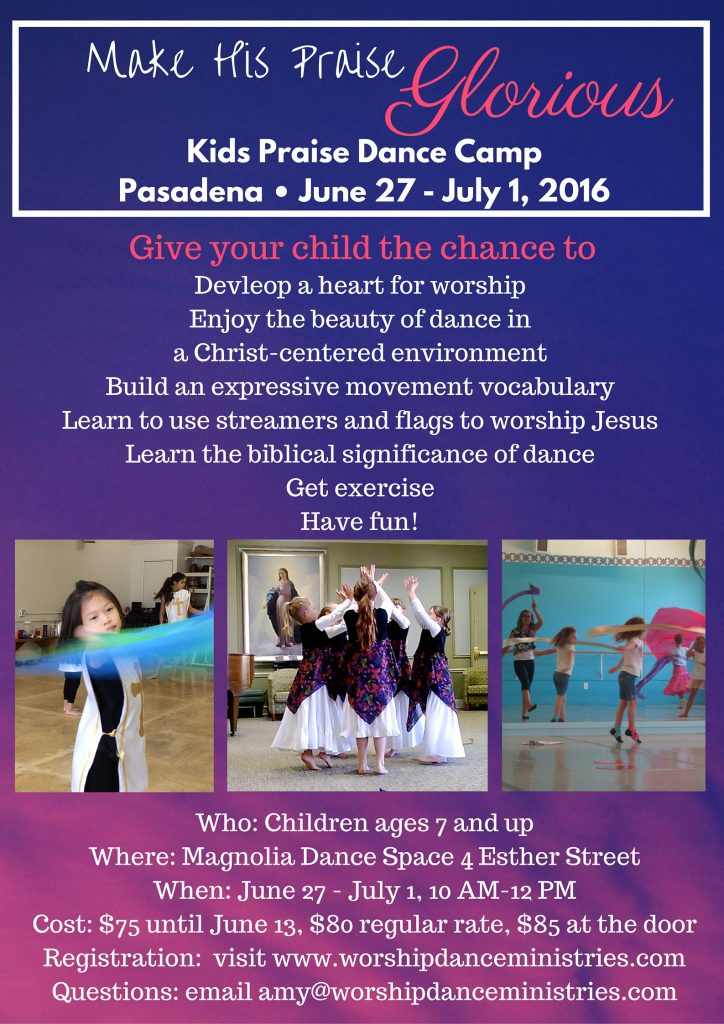 Psalm 66:2 instructs us to "Make His Praise Glorious." In this week-long summer dance camp, children learned to do just that. We focused on using flags, streamers, and billow cloths to offer our praise to Jesus.
You can click here to read about what God did in the lives of children, and scroll down to watch a 4-minute video of camp highlights.
I'm excited to be creating a praise dance curriculum based on the lessons I taught, so watch for that.
Make His Praise Glorious Camp 2016
Praise Dance in Pasadena – 2015
Enjoy this 4 minute recap of Praise Dance Camp 2015

Testimonials
"I was touched by your devotion and by modeling to the kids how to pray and include God in their dancing. It is hard to find how to use the gift of dancing in a way that pleases God and that makes it an act of worship as opposed to a performance. You are Giving the kids tools to do that. I also loved the modesty in your choice of outfits. Your focus is on God in everything and that is inspiring!" – Parent of student in Praise Dance Class.
"I want to tell you how much my girls just LOVED your class!!!!  They were beaming after class!  I just loved how much you focused on their little hearts worshipping while moving their bodies."
"My daughter looked forward to Worship Dance every week and she has learned a lot about expressing herself in dancing through worship.  You have such a gentle way in your approach to teaching the girls that I know draws them in to what you are doing and saying!"
"I was touched by your devotion and by modeling to the kids how to pray and include God in their dancing. It is hard to find how to use the gift of dancing in a way that pleases God and that makes it an act of worship as opposed to a performance. You are Giving the kids tools to do that. I also loved the modesty in your choice of outfits. Your focus is on God in everything and that is inspiring!"
"I cannot begin to tell you how much my daughter enjoyed the dance class.  She came home dancing every week!  It was so worshipful and wholesome….the perfect way to experience dance in a Christ-centered environment."